Main Content
Article
Outdoor Indiana - September/October 2017 - Featured Stories
From the Director
SAVING WHAT'S SACRED
INTO THEIR GOURDS
HELPING BIG BIRD
From the Director
HELP US PROTECT NATURE PRESERVES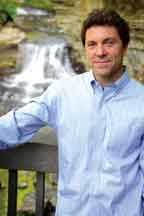 It is necessary and desirable that areas of unusual natural significance be set aside and preserved for the benefit of present and future generations before the areas have been destroyed.
You'll find that line in the Nature Preserves Act lawmakers passed 50 years ago to permanently protect unique natural areas of Indiana.
Establishing a nature preserve might seem simple. But it isn't.
We begin with a field inspection to determine if a site meets established criteria for nature preserve status.
If it does, in cooperation with the owner, legal documents are prepared, signed and notarized. A master plan for management and use of the property is created.
That plan is presented to the Natural Resources Commission for review and adoption, followed by Indiana's Department of Administration and Attorney General review and approval.
If all goes as planned, a record of "in perpetuity easement" is filed in the county of the new nature preserve.
Many of Indiana's natural areas were lost before anyone had a chance to study them. The Nature Preserve Act gives us the opportunity to protect what remains, something we've done 280 times and counting.
When we find an "area of unusual natural significance" we take extraordinary steps to preserve it. Lately, we have found preserves damaged by the selfish acts of others. During this 50th anniversary of the Nature Preserves Act, I ask that you visit the many preserves around the state. Become an advocate for them, and help others understand their purpose.
SAVING WHAT'S SACRED
Hope for aging historic places of worship
By Nick Werner, OI staff
The minister summoned the choir to the front of the church to lead worship.
More than half in attendance left their seats in the oak pews at Tyson Temple United Methodist Church. On this Sunday in February, fewer than 20 people attended the later of two services. Most were of retirement age.
Tyson Temple in Versailles is popular, but not always on Sundays.
Each year, busloads flock to the Art Deco style church to gawk at its architecture. The church was built in 1937 of granite, terra cotta brick, copper, steel and aluminum. Builders didn't use a single nail. A polished aluminum cross caps a cast aluminum spire, towering 100 feet over the Ripley County community.
But the temple of practicing believers Dixon described is shrinking. Not just in Versailles. Not just among Methodists. Overall religious membership is declining in the United States, and the change threatens the country's physical temples, too.

Two and three generations ago, many of these same places of worship were flourishing. Then and now the buildings represent some of the best examples of public architecture, from Gothic cathedrals to modern masterpieces.
Now, faith leaders struggle with how to maintain these aging, oversized and endangered edifices.
Cutline: Known as the "Castle on the Hill", the monastery is home to one of the nation's largest communities of Benedictine women.
To read the rest of this article subscribe to Outdoor Indiana or pick up a copy at most Barnes and Noble bookstores, and state park inns. To subscribe, click here or call (317) 233-3046.
INTO THEIR GOURDS
Superman of vine fruits sprouts vibrant culture
By Marty Benson, OI staff
Photography by John Maxwell, OI staff
A certain family of fruit that grows on vines takes center stage during fall.
Its members—pumpkins, squash and gourds—are nearly as much a part of the season as leaves changing color. But if they were people, they might tussle a bit.
Pumpkins and squash hoard the glory, comfortably doubling as delicious and decorative.
Gourds are the odd duck. Maybe it's the word's seemingly out-of-place u. They are edible, technically, but virtually flavorless. But in terms of durability and versatility, they are Superman. And their showy cousins are mere mortals.

Pat Moore, membership director of the Indiana Gourd Society (IGS), half-seriously spoke of squash-and-pumpkins versus gourds in terms of a bitter football rivalry.

"When they get old, they rot and stink and collapse," said Moore, who lives in Bloomingdale, in Parke County. "When we mature and get old, we get hard like wood and last forever."
The truth in her first statement is undeniable. Her second claim is just as true, but not necessarily common knowledge outside of gourd culture.
Cutline: A decorated gourd shows one of the many puns common among gourd enthusiasts.
To read the rest of this article subscribe to Outdoor Indiana or pick up a copy at most Barnes and Noble bookstores, and state park inns. To subscribe, click here or call (317) 233-3046.
HELPING BIG BIRD
Indiana plays key role in life of endangered whooping crane
By Nick Werner, OI staff
Photography by Frank Oliver, OI staff
Whooping cranes are the Rik Smits of the bird world.
The 7-foot-4 center played basketball for the Pacers from 1988 to 2000. Both he and the birds are tall and white, with huge wingspans. Smits was lanky yet graceful. So are whooping cranes.
And just like Smits did, some whooping cranes spend winter in Indiana wearing a number that identifies them.
But unlike Smits, whooping cranes—despite their height—have kept a low profile in the state. The reason is twofold. First, they exist in small numbers. Second, for years wildlife professionals kept quiet about their locations to protect them from poachers.
Reason No. 2 is changing.
Conservationists now believe creating public awareness will benefit the birds, according to Lizzie Condon, whooping crane outreach coordinator with the Wisconsin-based International Crane Foundation.
Cutline: When whoopers dance, like these at Goose Pond FWA, they may be preparing for breeding.
To read the rest of this article subscribe to Outdoor Indiana or pick up a copy at most Barnes and Noble bookstores, and state park inns. To subscribe, click here or call (317) 233-3046.