Main Content
Article
Outdoor Indiana - September/October 2016 - Featured Stories
From the Director
Of grave concern
A LOWLY FRUIT?
Whitewater Memorial State Park
From the Director
Managing forests for the long term
Director Cameron F. Clark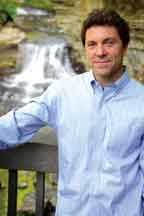 The leaves changing color in Indiana forests is a sight worth seeing.
For 100-plus years, DNR Forestry has used comprehensive science-based management to care for state forests that provide this showcase.
In 1901, the State Legislature tasked Forestry to restore Indiana's depleted woodlands through the "employment of good husbandry." Two years later, 2,000-acre Clark State Forest was established. We now have 15 state forests and an estimated 58.4 million trees on more than 156,000 acres of land, much of which came to us treeless.
From the start, Forestry's legislative charge included harvesting trees to benefit forest conditions. Our current annual harvest goal is 12–14 million board feet. For perspective, we have almost 1.2 billion board feet in state forests. Annual timber harvests amount to barely more than 1 percent of that. The fact is we grow more timber every year than we harvest.
Because trees are a renewable resource, we've been able to harvest from 85 percent of our state forest lands over the last 47 years. You wouldn't know it by looking, because we only harvest select trees from an area. The openings created are small and made to regenerate a new forest that also benefits many wildlife species.
For nine straight years, two independent audits using national and international standards for sustainable forestry management have told us we're doing the right thing.
The result is a healthier forest for trees and other flora, wildlife, and great recreational opportunities.
Of grave concern
Cemetery care is a noble but sensitive pursuit
By Marty Benson, OI staff
Photography by Frank Oliver, OI staff
"Age: 4 hours."
People who do cemetery restoration at any level usually have a story about why.
John "Walt" Walters, a professional at such work for more than 20 years, has more than a few such tales, and those three words are the gist of one.
They're from a broken tombstone he repaired in his early days at his craft.
"Just four hours on Earth but that four hours meant so much to two other people that they erected that memorial," said the man who calls his small business Graveyard Groomer. "I was glad I was able to put that back up for them."
Cutline: The Indiana Veterans' Home cemetery in West Lafayette dates to 1896. Burial in the cemetery is limited to veterans and their spouses who resided in the home at the time they died.
To read the rest of this article subscribe to Outdoor Indiana or pick up a copy at most Barnes and Noble bookstores, and state park inns. To subscribe, click here or call (317) 233-3046.
"A LOWLY FRUIT?"
To many, the persimmon is anything but
By Marty Benson, OI staff
Photography by John Maxwell, OI staff
Squish.
The sticky stuff you just stepped in and scraped from your shoe is why you're here. Soon, you will pay to eat something made from its kind.
This is southern Indiana, small-town downtown, in mid-September.
Your route, the sidewalk in front of the town library, is shaded by a hardwood. The concrete is littered with the tree's fruit, some rotten, some ripe, creating a minefield for pedestrians.
The perpetrator of this mess has shut down main street car traffic. Happens every year.
The town, Mitchell, is home to the oldest, by far, of the few persimmon festivals in the country, born in 1947. Tonya Chastain, a native and head of tourism for Lawrence County, where the town is located, credits George Bishop, school superintendent at the time, with the idea. According to her, he decided that Mitchell, current population about 4,350, could use a homecoming event. Persimmon, which grows profusely in the area, filled the void of a theme.
"They always say he chose the persimmon because it was a lowly fruit," Chastain said with a smile. "We took that persimmon theme and have just built upon it."
Cutline: Persimmons ripen in autumn at Blue Grass Fish & Wildlife Area near Evansville. Persimmon fruits are unpalatable if eaten before they soften. Fully ripened persimmons are used in baking, and have a sweet, unique flavor.
To read the rest of this article subscribe to Outdoor Indiana or pick up a copy at most Barnes and Noble bookstores, and state park inns. To subscribe, click here or call (317) 233-3046.
Whitewater Memorial State Park
Liberty for all
By Marty Benson
Last of a series
Future husband and wife Jeff and Tracey Crist met for the first time at a state park.
It wasn't Whitewater Memorial.
But that's one of the few things they haven't done at what's almost become their second home during 30-some years of living in Union County.
Each had courted Whitewater Memorial before they met. And their relationship with the park has deepened ever since they became a couple.
"I think every inch of this park has some type of memories for us," Tracey said of the 1,710 acres in Liberty, where the empty nesters live with their four horses and three dogs.
The "Whitewater" part of the name refers to the valley formed by the Whitewater River. The state park was the first in east-central Indiana when it opened in 1949. At the time, there was no Whitewater Lake, which now covers 180 acres and is the park's main feature.
Cutline: A fishing boat trolls across Whitewater Lake during September. The 180-acre lake boasts a healthy bluegill fishery, and stocked channel catfish and largemouth bass. Canoes, rowboats and paddleboats can be rented at the lake's boathouse during warmer months.
To read the rest of this article subscribe to Outdoor Indiana or pick up a copy at most Barnes and Noble bookstores, and state park inns. To subscribe, click here or call (317) 233-3046.