Main Content
Article
Outdoor Indiana - May/June 2016 - Featured Stories
From the Director
PET PROJECTS
The BUZZ about better BEEKEEPING
Salamonie Lake
From the Director
It's time to spring into summer
Director Cameron F. Clark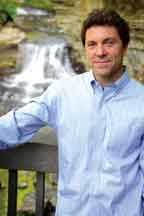 Now that spring has sprung, it's an especially busy time at the DNR.
Not that we ever have much idle time on our hands, but these next two months set the table for what promises to be an enjoyable summer.
As you well know by now, Indiana State Parks are celebrating their 100th anniversary this year.

Consequently, our state parks have placed a special emphasis on "100 events in 100 days" between Memorial Day and Labor Day.
But the fun begins in early May with events that include a morel mushroom festival (Brown County), a native plant sale (Prophetstown), spring flower hikes (Fort Harrison and Versailles), and the Honest Abe 5K Run (Lincoln), among others.
If a 5K isn't challenging enough for you, check out the 10th annual Tri-Fort Triathlon on May 21 at Pokagon.
If military history is your thing, Memorial Day weekend activities will recognize the Civil War at Spring Mill and World War I at Fort Harrison.
On June 4–5, all 32 state park properties are rolling back the gate fee to what it was when Indiana opened its first two state parks in 1916—10 cents per person.
That weekend offers the added bargain of free fishing. Indiana residents won't need to have a fishing license to fish on that Saturday or Sunday. To celebrate, we have fishing derbies planned at several park properties.
A detailed list of centennial-focused activities and other events can be found in our 2016 Recreation Guide or online at INStateParks100.com. You're sure to find something near you.
PET PROJECTS
A dog park, pet-friendly cabins and special pet events attract furry friends
By Nick Werner, OI staff
Photography by Frank Oliver, OI staff
Light rain and cold temperatures didn't bother Thorn, Merphy and Koda during a guided hike in January at Spring Mill State Park.
The 5-year-old German shepherd mix, 12-year-old fox terrier and 3-year-old Australian shepherd eagerly hit the trail for a roughly 2-mile jaunt around the park's lake.
Thorn belongs to Patrick Haulter ... About a quarter-mile into the hike, the group passed a beaver lodge. Haulter stopped to point it out, just as Koda squatted for a bathroom break.
Pet waste is not only a hazard for hiking boots but also can confuse wildlife. The smell may make wildlife think there is a predator in the area and cause wildlife undue stress. Waste also can contain parasites.
"This is the reason we want to keep our dog on leashes," he said. "We want to protect the animals that make this place their home."
At state parks, state fish & wildlife areas, state nature preserves and state forests, pets must be kept on a 6-foot leash, except during hunting activities or field trials, where those activities are allowed.
In a park, or any other natural area for that matter, pets are guests, while the wildlife lives there. Nonetheless, Indiana's state parks are becoming friendlier toward pets and their owners.
Cutline: For an ear-floppin' good time, dogs can run free within the confines of the dog park at Fort Harrison State Park in Indianapolis.
To read the rest of this article subscribe to Outdoor Indiana or pick up a copy at most Barnes and Noble bookstores, and state park inns. To subscribe, click here or call (317) 233-3046.
The BUZZ about better BEEKEEPING
Indiana helps lead comeback against colony collapse
By Nick Werner, OI staff
Photography by John Maxwell
The buzz of thousands of worker and drone honeybees filled the air as Jeff Cripe removed the top on the first of 20 hive boxes.
The hive boxes, organized in two long rows, lined a barbed-wire fence in a Boone County hay field. To the east, a tree line separated farmland from the wooded Eagle Creek basin, a roughly 163-square-mile greenspace that provides the bees with water as well as nectar and pollen from maples, tulip poplars, black locusts and wildflowers. To the west, the June sun descended over a flat, open landscape.
Jeff and his daughter, Millie, then age 18, own Eagle Creek Apiary in Sheridan. They sell honey and other honeybee byproducts at farmers markets throughout central Indiana and at six retailers. Jeff, a former carpenter and cattle farmer, started beekeeping about six years ago.
The father and daughter crouched over the hive. Except for their exposed hands, white protective gear covered each, head to toe.
Jeff pulled a honeycomb frame from the middle of the hive. Millie passed what looked like a peanut to Jeff, and he wedged it into the comb's hexagonal cells.
The buzz faded.
"You can hear them calm down," Jeff said. "Now they have what they need to go on."
Cutline: Tracy Hunter checks a beehive frame at Hunter's Honey Farm in Morgan County last June. Replacing lost honeybees and re-growing hives each spring hurts the honeybee business. Purdue University is developing tougher honeybees.
To read the rest of this article subscribe to Outdoor Indiana or pick up a copy at most Barnes and Noble bookstores, and state park inns. To subscribe, click here or call (317) 233-3046.
Salamonie Lake
Deep Roots
By Marty Benson
Part of a series
Blood is thicker than water," as you've probably heard.
Usually it means that during conflict, family (blood) trumps friendship (water).
Salamonie Lake lends a twist, making the two elements nearly one and the same. The lake seems to bond with its frequent visitors. You might even say it gets in their blood.
As a child, long before the dam was built, Gary Lewis played in, on and along the Salamonie River.
In the late 1950s, when the U.S. Army Corps of Engineers was buying land near the river to build its first of three flood-control projects in the northern Wabash River watershed, Lewis' grandparents lived in Monument City. The tiny town was the largest of three whose original land has been submerged for most of each year since the mid-1960s.

"Mom and dad were both graduates of Monument City High School," Lewis said. "My uncle, Jack Ellis, was a basketball star there. My dad and uncle put a little boat together, and we would just float down.
"My dad and his brother grew up on the river. They knew it inside and out."
As the dam project started, Lewis' family ties to it deepened. His dad and uncle were on strike from General Motors in Marion. They got jobs moving graves from the town's cemetery so the lake wouldn't cover them.
Cutline: The lake's Pirate's Cove Marina offers boat rentals and overnight or seasonal boat mooring.
To read the rest of this article subscribe to Outdoor Indiana or pick up a copy at most Barnes and Noble bookstores, and state park inns. To subscribe, click here or call (317) 233-3046.