Article
Section
Outdoor Indiana - May/June 2015 - Featured Stories
From the Director
Clifty Falls State Park
A rural urban divide
CREATING wildlife habitat
From the Director
Wear a life jacket
Director Cameron F. Clark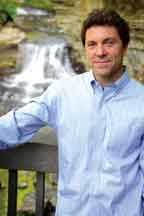 This is a numbers story, plain and simple.
281 people drowned in Indiana over the past five years.
9 out of 10 drownings both here and across the country happen on inland waters, most within a few feet of safety.
70 percent of all boating fatalities are caused by drowning.
85 percent of drowning victims nationwide were not wearing a life jacket, even though they had one available.
60 seconds is all the time it takes for an adult to drown.
It takes 20 seconds for a child to drown.
Get the picture?
The DNR consistently promotes the importance of wearing life jackets when participating in water-related recreational activities. The Wear It! campaign of our Indiana Conservation Officers has used radio commercials and billboard advertising across the state to spread the word.
National Safe Boating Week is May 16–22, and although the annual message of these two outreach campaigns seems to be getting heard, there's still plenty of room for improvement. Safe boating needs to be a year-round practice.
That's where you and every Hoosier who goes boating can play an important role, not only in your own safety, but also with the safety of others who share the enjoyment boating can bring.
If you are you a boat owner, make sure you have a U.S. Coast Guard-approved life jacket for everyone on your boat. It's not just a good idea. It's the law.
And don't take shortcuts. It's also a requirement a life jacket properly fit the person wearing it. Adult-size jackets don't qualify for children. If you're having trouble finding appropriately sized life jackets for your youngsters, check out the National Safe Boating Council's online store (safeboatingcouncil.org/non-members). It offers life jackets in three sizes—youth, child and infant.
Take it upon yourself to be the stickler for details. Set an example by putting on your life jacket, and don't just ask your passengers to do the same. Insist on it, and tell them the motor doesn't start until they do.
Don't become a number. Get a life jacket for you and for your loved ones. But don't just buy them. Wear them!
Clifty Falls State Park
Rock of Ages
By Marty Benson, OI staff
Part of a series
The park office phone rings.
"Have you turned the water on today?"
Plumbing isn't the concern. The caller is asking about the flow over Clifty Falls State Park's four waterfalls—Big Clifty, Little Clifty, Hoffman and Tunnel.
The answer, as is often the case with similar calls, is less than the caller hoped. The reason is the area's small watershed.
Veteran visitors expect this. Many first-timers know it. Yet thousands flock in summer and fall, and leave planning a return, despite not seeing much more water falling than a steady drip. They realize—or soon learn—that the park is more about cliffs than falls.
Geology is the consistent draw. Hydrology—more than a trickle of water—is usually a winter and spring fling. The scenery is spectacular, regardless. Just different.
Cutline: Rugged Trail 7 spans Little Clifty Creek near the top of Little Clifty Falls.
To read the rest of this article subscribe to Outdoor Indiana or pick up a copy at most Barnes and Noble bookstores, and state park inns. To subscribe, click here or call (317) 233-3046.
A rural urban divide
CITY DEER VS. THEIR COUNTRY KIN
By Nick Werner, OI staff
Photography by Frank Oliver, OI Staff
The eight researchers spread out, side-by-side, spaced every 5 yards.
They marched, eyes fixed on the ground. They sidestepped trees, hopped logs and splashed through puddles in their advance through a creek bottom east of Bloomington.
"Let's slow it up," said Chad Williamson, a sandy-haired 30-something dressed in blue jeans and a khaki green T-shirt.
Williamson, a Ball State University graduate student, and Dr. Tim Carter, one of the school's biology professors, were leading six college-age interns and technicians in summer 2014. They were combing the woods for fawns as part of a Ball State and DNR project. The objective was to better understand the lives and survival rates of fawns in Bloomington compared with those of fawns in the surrounding countryside.
The research is the first of its kind that Williamson is aware of.
"There's been a lot of research on fawn survival," Williamson said. "But there's been little research on fawn survival in urban areas, and no research to my knowledge comparing those two in the same geographic area."
Bloomington has a booming deer population. The research will provide officials in that city and elsewhere with information to help make science-based management policies.
Cutline: Chad Williamson records data on a fawn temporarily captured from the backyard of a home in Bloomington. Helping Williamson are Chloe Wright (standing), Tiffany Mathews (bending over) and Missy Stallard (with the fawn).
To read the rest of this article subscribe to Outdoor Indiana or pick up a copy at most Barnes and Noble bookstores, and state park inns. To subscribe, click here or call (317) 233-3046.
CREATING wildlife habitat
Here's help for properties BIG and small
By Nick Werner, OI staff
Photography by Frank Oliver, OI staff
The intersection of Keystone Parkway and Carmel Drive looks like an unlikely spot to restore wildlife habitat.
The interchange in the Indianapolis suburb of Carmel has eight traffic lanes with four on-ramps, a roundabout and an underpass. It is surrounded on three sides by fast-food restaurants and housing additions. Nearly every square foot of earth is encased in concrete.
Except the northeast quadrant.

There, at St. Peter's United Church of Christ, the congregation is transforming its 2-acre grounds into a natural area. The church has planted a wood stand with several dozen native trees. A once-concrete drainage basin is now a wetland with palm sedge, boneset and Joe-Pye-weed. Final plans call for a field of turf grass to be reborn this year as a prairie patch with walking trails.
Projects like this are increasingly important to the state's wildlife for two reasons. First, 95 percent of Indiana land is privately owned, so the majority of animal populations depend upon private land for survival. Second, habitat is being lost to development, whether it's for housing additions and thoroughfares or the clearing of fencerows and shrub lands for row crops.
Cutline: Robert Mulford, a retired doctor, and his wife Ellen own and maintain 400 acres near Versailles. Assistance from the DNR helped them restore the former farmland to natural habitat.
To read the rest of this article subscribe to Outdoor Indiana or pick up a copy at most Barnes and Noble bookstores, and state park inns. To subscribe, click here or call (317) 233-3046.