Article
Section
Outdoor Indiana - March/April 2015 - Featured Stories
From the Director
Gross for a reason
Unveiling the Underground Railroad
Patoka Lake
From the Director
Listen up
Director Cameron F. Clark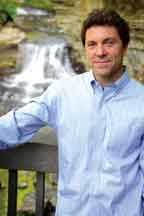 In those moments of solitude I experience while out in the woods hunting or hiking, I marvel at the variety of sounds that can be heard if you just listen. There's nothing like a front row seat when the woodland inhabitants haven't noticed your presence.
Being in the woods from dark to light or light to dark provides an interesting transition of wildlife activity.
In the fall, the crunch of leaves behind me might be squirrels searching for hickory nuts. Or was that a deer? Maybe a turkey?
Similarly, spring offers an awakening as audible as it is visual. Hearing what's going on can be as interesting as seeing.
There are few things more thrilling than finding yourself in darkened woods surrounded by a group of barred owls in loud disagreement. As dawn breaks, birds of all sorts take turns greeting the day, and the drunken revelry of frogs from a nearby pond gives way to bird song. Wild turkeys begin conversing with each other. Toms belt out a gobble from their tree-top roosts while hens coyly answer with a cluck, purr or yelp as their spring mating ritual plays out in the heart of the forest.
Canada geese honk their arrivals and departures, bringing to mind the line from Aldo Leopold's book "Sand County Almanac": "One swallow does not make a summer, but one skein of geese, cleaving the murk of a March thaw, is the spring."
As morning shadows yield to the light of day, most woodland wildlife starts settling down but others are still stirring. And if I stir too much I'm apt to hear the unmistakable snort of a deer alerting the woods there's a stranger among us. Later, turkey conversation becomes a lot more subtle. The far-reaching screech of a red-tailed hawk in search of prey is unmistakable.
As evening arrives, the whip-poor-will repeats and repeats and repeats the call that gave the species its name. And the yelping and howling of coyotes will give you the shivers.
So, the next time you're in the woods, open your ears and "see" for yourself.
Gross for a reason
Vultures keep our world tidy
By Nick Werner, OI Staff
Photography by Frank Oliver, OI Staff
Next time you are enjoying the outdoors, take a moment to appreciate vultures.
If you see one, you might even holler "thank you."
Because vultures help keep landscapes clean. They are a significant reason you aren't tip-toeing over rotten carcasses when you step outside.
"Think about how many animals die in nature," said Angie Manuel, interpretive naturalist at Prophetstown State Park. "Why aren't you seeing all these dead animals? It's because of scavengers."
Human culture has turned the vulture into a symbol of death and gloom. Images of vultures grace the "over-the-hill" novelty gifts for those celebrating their 50th birthday. Vultures circle over sunburned and nearly dead cowboys in the desert scenes of western movies.
Even the word "vulture" can mean a person who exploits others.
In reality, vultures are far from undesirable. Underappreciated is more like it.
Cutline: A turkey vulture perches on a dead tree at Monroe Lake's Paynetown State Recreation Area.
To read the rest of this article subscribe to Outdoor Indiana or pick up a copy at most Barnes and Noble bookstores, and state park inns. To subscribe, click here or call (317) 233-3046.
Unveiling the Underground Railroad
Indiana's cog in the secret network that helped slaves to freedom
By Nick Werner, OI staff
Photography by Frank Oliver, OI Staff
William Bush arrived in Indiana in a wooden box shipped from North Carolina.
That's one version of his escape from slavery, says his great-great granddaughter, Eileen Baker-Wall. The story goes that abolitionist Levi Coffin received the box at his Wayne County home and gave its cargo the surname "Bush" because of the beard that grew on William's face during transit.
Another version says Bush paid a barge worker $75 for passage up the Mississippi River from the state of Mississippi.
Census records say Bush arrived in Newport, now called Fountain City, between 1840 and 1850. He was born around 1800. His slave name was McKissick or McKenzie.
"It's not like ancestry.com," Baker-Wall said. "Nobody wrote anything down."
Bush found freedom through the Underground Railroad. He kept secrets about his past to avoid recapture. Few details are certain except that Bush became a successful blacksmith and lay veterinarian, and wore wooden shoes in his shop to protect his feet.
Those shoes, the only known artifact from Bush's life, are displayed at the Levi Coffin House in Fountain City.
Cutline: Tourists leave the historic Levi Coffin House in Fountain City. When necessary, Coffin hid escaped slaves in the attic and in a cubbyhole in his bedroom.
To read the rest of this article subscribe to Outdoor Indiana or pick up a copy at most Barnes and Noble bookstores, and state park inns. To subscribe, click here or call (317) 233-3046.
Patoka Lake
Plenty of room to spare
By Marty Benson, OI Staff
Part of a series
Straight-line winds from a massive weather system blasted a billboard in front of Sean Gorby's truck.
It was September 2009. He was pulling his bass boat north on Interstate 71 from Dry Ridge, Kentucky, to Patoka Lake. His annual four-day reunion with Ohio high school buddy Clayton Sayre awaited.
The 8,800-acre reservoir has been their event's base ever since the 30-something family men started their tradition in 2007. They have no intentions of moving it.
Sayre had already arrived safely. By the time Gorby got there, the power had checked out. Most other visitors had done the same. Or never come.
These two friends broke out the tiki torches.
"We were like 'absolutely no way are we leaving—we made it here, we are going to stay here and enjoy our time,' " said Sayre, who lives in Brownsburg, near Indianapolis.
The weather improved. They fished, reminisced, relaxed and planned to return for another four days, same time next year.
Patoka has ingrained such loyalty in the Toledo-area natives, even though they barely heard of the combined 26,000 acres of land and water before starting their tradition.
"There is no more beautiful area as far as being in Indiana, and a lot of people just don't realize it's here," said Sayre, who learned of the place from another friend.
Cutline: Patoka Lake's undeveloped, scenic shoreline and 17,200 acres of forested real estate make for spacious camping, fishing, boating, hunting, hiking and wildlife watching.
To read the rest of this article subscribe to Outdoor Indiana or pick up a copy at most Barnes and Noble bookstores, and state park inns. To subscribe, click here or call (317) 233-3046.