Main Content
Article
Outdoor Indiana - May/June 2014 - Featured Stories
From the Director
Indiana's Ocean
Final Jeopardy
Fly the friendly skies
From the Director
A date and activity to remember
Director Cameron F. Clark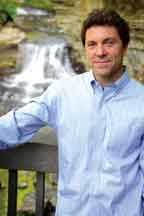 June 7 is circled on my calendar.
Why?
It's National Trails Day, an American Hiking Society event that promotes use of our nation's trail system and recognizes the volunteers who help maintain those trails.
An event like this helps put a spotlight on DNR trail activities. You may have heard of Hoosiers on the Move, an initiative started in 2006 to unite disconnected trails and have a trail within 7.5 miles of every Indiana resident by 2016.
In 2006, 83 percent of Hoosiers were within 7.5 miles of a trail. Today, it's closer to 98 percent.
Progress has been so good that we've raised the bar. The new goal is 5 miles.
Why trails?
They provide opportunities for physical fitness, connection with nature, and economic value when integrated with community development.
Trails come in all lengths and layouts, from short to long and loops to linear.
Indiana's premier hiking trail is the Knobstone Trail, a 58-miler whose advocates have ambitions to make it even longer. In fact, almost 100 miles longer. The Knobstone Hiking Trail Association has mapped out a provisional route that would connect the KT and the Tecumseh Trail, a 42-mile trail similar to the KT that begins in Morgan-Monroe State Forest.
If tackling the KT's long-distance challenge is not on your to-do list, there are hundreds of other options all across Indiana for hikers, bikers, walkers and joggers.
Some of the best are on DNR properties. Our state parks are an obvious choice for trails, which in recent years have expanded to include wheelchair-accessible paths and some of the best mountain biking in the country.
But we also have quality trails in state forests and state nature preserves that wind through deep woods and open prairies, along wetlands, streams and lakes, and to some of the most scenic vistas you'll find in Indiana.
Best of all, you don't have to wait until June 7 to enjoy them. They're open year-round.
Check out the interactive Indiana Trails Inventory at dnr.IN.gov/outdoor. See you on the trail.
Indiana's Ocean
State's tiny coast almost wasn't
By Nick Werner, OI Staff
Indiana isn't the tropics.
But on June 19, 2012, the Internet search engine called Bing published a serene, tropical-looking photograph as the website's backdrop.
And it was taken in the Hoosier state.
The image showed a wide beach in the foreground, empty except for a whitewashed lifeguard chair. The glasslike surface of what looked like a lagoon reflected cumulus clouds. In the background, aquamarine water stretched to the horizon.
"People don't realize Indiana is a coastal state," said Mike Molnar, director of the DNR Lake Michigan Coastal Program (LMCP).
Lake Michigan remains a relatively unsung player in the state's identity, taking a backseat to basketball, auto racing and agriculture and perhaps a few other subjects. Indiana's coast, after all, measures a modest 45 miles and is tucked in a corner, 170 miles from Indianapolis.
The shoreline, however, is exponentially valuable. By some accounts, Indiana is almost as much of a coastal state as Massachusetts or Virginia, minus the saltwater.
Cutline: Blessed by calm winds, a woman paddles along the shoreline of Lake Michigan near Long Beach during late summer.
To read the rest of this article subscribe to Outdoor Indiana or pick up a copy at most Barnes and Noble bookstores, and state park inns. To subscribe, click here or call (317) 233-3046.
Final Jeopardy
Turtle species falls behind the pack
By Nick Werner
The Eastern box turtle is in a race to survive.
And slow and steady isn't working for the species.
Across its range, the box turtle faces four threats—habitat loss, disease, roadway traffic and being taken from the wild as a pet.

The population decline likely began at least four decades ago, according to DNR herpetologist Sarabeth Klueh-Mundy, and is reaching a critical point.
Of Indiana's 18 turtle species, the Eastern box turtle is one of the two that live mostly on land. Its range includes all of Indiana, but it is most common in heavily forested southern counties. Turtle fans love its cute, colorful appearance and passive demeanor.
For many people across the eastern United States, finding a box turtle is among their first hands-on experiences with a wild animal.

But because the turtle remains an ordinary sight on nature hikes and car drives, few people outside scientific circles understand its peril.
The problem is masked by box turtle longevity, according to Klueh-Mundy. Box turtles can live to 100 years. The species still roams Indiana's woods. But the population is old and the turtles aren't reproducing much.
"Often you don't realize something's wrong with the population until it's too late," Klueh-Mundy said.
Cutline: DNR assistant herpetologist Jason Mirtl carefully moves an Eastern box turtle out of the road in southwest Indiana. Turtles are often at risk to become road-kill.
To read the rest of this article subscribe to Outdoor Indiana or pick up a copy at most Barnes and Noble bookstores, and state park inns. To subscribe, click here or call (317) 233-3046.
Fly the friendly skies
Disc golf seeks mass appeal
By Marty Benson, OI staff
Chances are you have thrown a Frisbee or seen someone else toss one.
Chances are you have swung a golf club or seen someone else swing one.
The chances you have played disc golf, which morphs both activities, are oodles lower. But if a passionate group of Hoosiers has its way, you will.
Disc golfers call the club version "ball golf." Allen Pier, member and keeper of disc's mobile Indiana Hall of Fame, started as a ball-golfer in Miami County at age 12, after learning from his dad. For 10 years or so, that was his game. He caught disc fever after playing with his hometown cousin, Joy Pier.
"I liked it because the rules are similar but with different equipment," said the retired Chrysler worker. "Mentally, it's the same game."
With a minuscule comparative price tag.
You may have heard of Frisbee golf. That term has been inaccurate for a long time.
Cutline: Professional disc golfer Nikko Locastro of St. Louis throws from the fairway at Lemon Lake County Park in Crown Point during the 2013 Professional Disc Golf Association World Cup. Several hundred pro and amateur disc golfers and thousands of fans from around the world gathered in the northwestern Indiana town last August.
To read the rest of this article subscribe to Outdoor Indiana or pick up a copy at most Barnes and Noble bookstores, and state park inns. To subscribe, click here or call (317) 233-3046.