Article
Section
Outdoor Indiana - November/December 2013 - Featured Stories
From the Director
Better parks, better deer
Plant Feature
2014 Calendar
From the Director
Buy a license, make a difference
Director Cameron F. Clark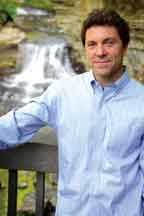 In the last issue, I wrote about land conservation and various programs available to Hoosier landowners.
In a somewhat similar fashion, buying an Indiana fishing or hunting license makes a difference for wildlife. That revenue can be used only for fish and wildlife conservation. None goes to the State General Fund, and no general tax dollars are used to support our Division of Fish & Wildlife's mission.
Each year, nearly 870,000 Hoosiers buy fishing and hunting licenses.
But there's another revenue source tied to license purchases—the federal Sport Fish and Wildlife Restoration Programs. The U.S. Fish and Wildlife Service administers both programs, which have shared more than $6.6 billion with state fish and wildlife agencies over the past 76 years.
Funding comes from a federal excise tax charged to manufacturers for the hunting, fishing and boating equipment they produce. As with any tax of this sort, the cost is passed on to consumers, in this case anglers, hunters and even recreational boaters.
Money generated from this tax is apportioned by USFWS as grants to state fish & wildlife agencies based on a formula that calculates the area of a state and the number of certified license holders living there.
Indiana's combined apportionment in 2013 was nearly $14 million.
Who benefits? Certainly anglers and hunters, who visit Fish & Wildlife Areas and use public access boat ramps. So do Indiana's estimated 1.7 million wildlife watchers and outdoor recreationists—some frequent the same Fish & Wildlife Areas and use the same boat ramps paid for by anglers and hunters.
Discussing the benefits Hoosiers receive from outdoor recreation could fill this entire magazine. But as we take pleasure in the lands and waters of Indiana, remember that all of us are stakeholders in caring for what we enjoy.
Better parks, better deer
20 years of hunting has helped restore state park scenery
By Nick Werner
Photography by Frank Oliver
The buck emerged slowly into the strip of grass where an overhead power line cut a swath through the woods. The 13 tines on his antlers entered the clearing first. His bison-like shoulders followed.
The deer looked right, across a deep canyon carved by Sugar Creek. Then he looked left, where the strip of grass ran as far as the eye could see, exposing gentle hills that rolled like the homestretch on a rollercoaster. It was Nov. 13, the first of four days of a special deer reduction hunt in 2012 at Shades State Park, near Crawfordsville.
Twenty-five yards away, Jake Dunnuck sat in a tree stand with his .44-caliber rifle.
The animal seemed to have come out of nowhere.
"How many ways can I screw this up?" he thought.
Dunnuck fired one shot, then two more.
The animal raced over the bluff and out of view.
Cutline: A wary buck hides in the thick cover at Shades State Park near Waveland. This year is the 20th anniversary of hunters helping control the deer population to protect vegetation at Indiana's state parks.
To read the rest of this article subscribe to Outdoor Indiana or pick up a copy at most Barnes and Noble bookstores, and state park inns. To subscribe, click here or call (317) 233-3046.
Plant Feature
Mistletoe (Phoradendron flavescens)
By Mike Everidge
Mistletoe is nearly synonymous with romance this time of year. But chances are you wouldn't find its presence so enthralling if you were a tree.
In addition to being a Christmas decoration, mistletoe has a mixed history of folklore tracing back before the holiday existed.
Many magical powers were attributed to European mistletoe (Viscum alba). It was believed to bestow life and fertility, protect against poison, carry aphrodisiac properties and have numerous other powers.
Cutline: Mistletoe on a tree in Madison. The plant's impact on trees is usually minimal but it remains green even on a host tree like this one that loses its leaves.
To read the rest of this article subscribe to Outdoor Indiana or pick up a copy at most Barnes and Noble bookstores, and state park inns. To subscribe, click here or call (317) 233-3046.
Calendar
2014
This issue includes the 2014 Outdoor Indiana calendar. It's packed with the state's best outdoor photography, including this shot of the end of a summer day at Fort Harrison State Park's Delaware Lake in Indianapolis.
You can purchase the calendar separately by calling 317-233-3046, or mailing payment to Outdoor Indiana, 402 W Washington St, W255B, Indianapolis, IN 46204. The price is $10 including tax