Article
Section
Outdoor Indiana - September/October 2013 - Featured Stories
From the Director
Let's get weird
King of game birds in exile
Treasures in your own backyard
From the Director
Habitat is the key
Director Cameron F. Clark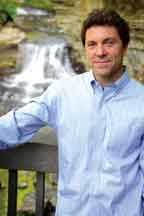 Elsewhere in this issue, you can read senior writer Nick Werner's report on the decline of ruffed grouse, a native upland game bird whose population is at historic lows.
The reason? Habitat loss.
Habitat is critical, not only for ruffed grouse but for any species.
While the DNR can address habitat issues on public lands it manages, that may not be enough. The survival of ruffed grouse and all wildlife species depends on available habitat on the 96 percent of Indiana land that is privately owned.
Fortunately, several programs are available to landowners that can enable them to improve the wildlife habitat on their properties. Quite a few offer financial incentives to the landowner.
Some of you may be familiar with the Conservation Reserve Program and the Wetland Reserve Program that are administered by the U.S. Department of Agriculture's Natural Resources Conservation Service. The U.S. Fish and Wildlife Service administers the Partners for Fish and Wildlife Program.
The DNR has several as well—Pheasant Habitat Incentive, Quail Habitat Incentive, Game Bird Habitat Development, Wildlife Habitat Cost-Share, and Classified Forest and Wildlands.
The DNR also works with conservation groups on two other programs. One is the Game Bird Partnership Program in partnership with local chapters of Pheasants Forever, Quail Forever and the National Wild Turkey Federation. The other is the Northeast Wetland/Grassland Restoration Program in partnership with Ducks Unlimited and the U.S. Fish and Wildlife Service that targets Allen, DeKalb, Elkhart, Kosciusko, LaGrange, Noble, Steuben, and Whitley counties.
For more information, visit wildlife.IN.gov/2352.htm.
But you don't have to be a qualifying landowner to support habitat conservation.
The Indiana Wildlife Federation offers a Backyard Wildlife Habitat certification program through the National Wildlife Federation that has had more than 65,000 backyards in the United States meet its standards.
Finally, consider putting an Environmental License Plate on your vehicles or donating directly to Indiana Heritage Trust.
I promise your donations will support wildlife habitat.
Let's get weird
Freaky trees invade forests
By Nick Werner
The gargoyle looked to be cut from granite.
It wore a scowl, its mouth open, its nostrils flared, its eyebrows furrowed.
"From the right spot, you can see the pupils of the eyes and everything else," John Bundy said. "It stares right at you. You'd be hard pressed to find a better looking gargoyle."
But this gargoyle was different. Instead of overlooking a busy cityscape from atop a cathedral or other gothic building, it gazed upon open countryside. And it did so from a massive cherry tree near the banks of the White River in Hamilton County.
The gargoyle was a growth on the tree. It was likely caused by insect damage or a virus or a mutated growth bud. Bundy, who is president of the conservation group White River Rescue, discovered the tree during a cleanup after the river's massive 1999 fish kill.
"Like any other trip in the woods, if you look around you'll see things," Bundy said.
Since 2000, the DNR Division of Forestry has celebrated such unusual trees, touting them every four years in its campy online publication "Invasion of the Weird Trees."
Cutline: John Bundy and the Gargoyle Tree near the White River in Hamilton County. Since 2000, the DNR Division of Forestry has cel­ebrated such unusual trees in a publication on weird trees.
To read the rest of this article subscribe to Outdoor Indiana or pick up a copy at most Barnes and Noble bookstores, and state park inns. To subscribe, click here or call (317) 233-3046.
King of game birds in exile
State at risk of losing the ruffed grouse
By Nick Werner
Jack Corpuz stuffed three shotgun shells into the pocket of his khaki and orange hunting vest before letting his Brittany spaniel out of his SUV.
"This could be the last time I'll hunt this property," he said.
Since the mid-1970s, Corpuz had chased ruffed grouse through 80 acres of rolling, forested ground in Brown County. But in 2012, the property's ownership changed hands, and the future of Corpuz's hunting privileges was uncertain.
On this clear November day, Corpuz carried his unloaded over-under shotgun as he and his dog, Maggie, meandered logging trails, climbed hills and crossed streams.
Along the way, he reflected on past hunting trips. Corpuz recalled setting up camp one night in 1977 and listening to the World Series radio broadcast as Reggie Jackson pounded three consecutive home runs. He recalled excellent hunting in the early 1980s when a "bad day" meant flushing three or four birds. He pointed at two cedars.

"You couldn't walk in there and not step on a grouse," he said.
Times have changed. Corpuz has not shot one here, or anywhere else in the state, in more than 15 years.
The story of the grouse in Indiana is one of boom and bust, tied to habitat.
Cutline: Jack Corpuz watches as his dog Maggie fruitlessly works a Brown County forest for grouse, then (upper right) shows his frustration.
To read the rest of this article subscribe to Outdoor Indiana or pick up a copy at most Barnes and Noble bookstores, and state park inns. To subscribe, click here or call (317) 233-3046.
Treasures in your own backyard
Hardy Lake
Community embrace
By Marty Benson
Part of a series
Toasting marshmallows, staring at a solitary flame, you see a bald eagle.
It is perched on a woman's wrist.
You are not hallucinating.
You are camping at Hardy Lake.
Seeing the national symbol in the wild is becoming almost common in some parts of the state. But you probably won't look a bald eagle in the eye in Indiana, in its home territory, unless you're at this rural getaway near Scottsburg.

Most weekends during high camping season, naturalist Leslie Grow escorts one of 12 education raptors about a mile across the property from the only state-owned raptor rescue center in Indiana. Sometimes the bald eagle adorns Grow's glove. Sometimes another bird of prey's talons grip the leather.
"Education" birds, one of two parts of the raptor center population, have been permanently injured and could not survive in the wild. Hardy also nurses temporarily injured raptors for release. Federal law bans public display of birds that will be released into the wild because such birds, as much as possible, need to maintain their wildness in order to survive once released.
Cutline: Andy Henry from Jefferson County fishes Hardy Lake during a June evening. Hardy is a popular destination for anglers seeking largemouth bass, channel catfish and panfish. Striped bass and hybrid striped bass stockings provide exciting open-water fishing.
To read the rest of this article subscribe to Outdoor Indiana or pick up a copy at most Barnes and Noble bookstores, and state park inns. To subscribe, click here or call (317) 233-3046.