Main Content
Article
Outdoor Indiana - January/February 2020 - Reader Photos
Each issue, Outdoor Indiana staff will select reader submitted photos to feature in the magazine. If you would like the chance to be featured, please submit your photo, along with your name and phone number to:
Please, only submit original photography that you have taken. Do not send files over 9 MB in size. JPG format is preferred.
January/February 2020
(Select image to enlarge it)
LACEY GRAHAM
Clay County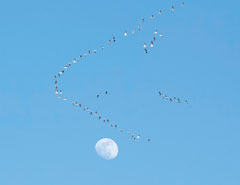 Lacey shot this photo of snow geese at Goose Pond Fish & Wildlife Area in February 2019 about an hour before sunset. One of many photographers there, she is thankful the geese crossed in front of the moon just when she looked up.
STEVE KRUGER
Veedersburg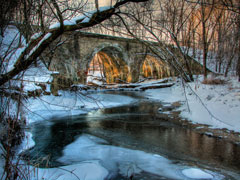 Brrrr. Steve took this photo of the old railroad bridge between Veedersburg and Sterling one chilly morning. He fell during the walk there but, fortunately, neither he nor the camera was damaged. The bridge was on the Nickel Plate Railroad, which is now a walking trail.