Main Content
Article
Outdoor Indiana - November/December 2019 - Featured Stories
From the Director
100 YEARS OF FOREST RESEARCH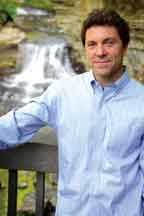 Welcome to the issue saluting DNR's 100th year.
That milestone reminds me of another 100-year effort we started 13 years ago.

The Hardwood Ecosystem Experiment (HEE) at Morgan-Monroe and Yellowwood state forests is scheduled to end in 2106. HEE's main goal is to understand the short- and long-term ecological and social impacts of forest management on public and private lands in Indiana and the Central Hardwoods Region.
A collaboration of DNR Forestry and several Midwestern universities such as Purdue, Indiana State, and Ball State, HEE consists of carrying out and monitoring the five most common approaches to forest management in selected areas, then comparing the long-term response of flora and fauna with conditions in the surrounding forest. Researchers are also surveying nearby landowners and the general public to assess their attitudes toward forest management.
HEE has already yielded important findings about the sustainable management of our forests. One recurring theme is the strong resiliency of our forest communities to disturbance. Scientists have long known that Midwestern forests were shaped by disturbance events like fire, wind, and flood, and HEE's findings demonstrate these same communities are similarly resilient to periodic forest management disturbances, like timber harvesting. You can learn more about the individual studies involved and see results at heeforeststudy.org.
Remember, we still have 87 years to go. Like the DNR, HEE is in it for the long haul.
100 Years
DNR COMMEMORATES ITS CENTENNIAL
By Marty Benson, OI staff, with Scott Roberts, OI staff
King Solomon of the Bible's Old Testament is credited by many with writing, "There is nothing new under the sun."
Natural resources make up a large portion of what that sweeping declaration can encompass. Unless you're talking spans of millennia, natural resources are rarely new—they are what the Earth has provided its inhabitants. It is the human decisions about their stewardship that change.
Science-based care and use of that abundance is the tale of the Indiana Department of Natural Resources as its first 100 years close. Species have been successfully reintroduced, forests have been replenished and managed, parks and other properties have been established, and various conservation practices have been developed and improved; however, the makeup of what nature offers Hoosiers has remained essentially constant.
What you know today as the DNR started as the Department of Conservation (DOC) in 1919. Comparing the state of natural resources in Indiana then to current-day conditions reveals a history of accomplishment—with plenty of challenges remaining.
The DOC of 1919 united the divisions of Entomology, Fish & Game, Forestry, Geology, and Lands & Water. Each, with the exception of Fish & Game, was financially supported by the state's general fund. Fish & Game was funded by the sale of hunting and fishing licenses, which is essentially still the case for its successor, today's Division of Fish & Wildlife.
The first DOC director was Col. Richard Lieber, whose vision helped launch the state park system that began three years earlier. Since Lieber, 21 other men have served as DOC or DNR director.
When the DOC became the DNR with the General Assembly's passage of the Natural Resources Act in 1965, more changed than the name. The move was both a reorganization and an expansion—a collection of mostly existing entities was tweaked and regrouped under one large umbrella.
Cutline: Adams Turkey Run State Park visitors explore Rocky Hollow via Trail 3, which leads to the Punch Bowl waterfall. It is among Indiana's oldest and most popular state park trails. Photo by John Maxwell
To read the rest of this article subscribe to Outdoor Indiana or pick up a copy at most Barnes and Noble bookstores, and state park inns. To subscribe, click here or call (317) 233-3046.