Main Content
Article
Outdoor Indiana - September/October 2019 - Featured Stories
From the Director
Covered Classics
FREE BIRD!
STICKY SITUATION
From the Director
DO HALLOWEEN WITH THE DNR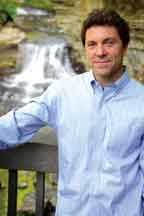 I've heard Americans spend more on Halloween than any holiday but Christmas.
If the activity at DNR campgrounds is any indication, that's true.
You'll find Halloween-related events at some State Park property and/or Forestry's Deam Lake and Starve Hollow nearly every October weekend. Prophetstown's unique Trail of Scarecrows lasts all month.

The events go by many names—
Owl-O-Ween, Spooktacular, A Haunting Good Time, Ghostly Gathering, Fall-o-Ween Festival, Hoots and Howls Weekend, Un-BOO-Lievable Happenings ... you get the idea.
Offerings differ, but each generally has trick-or-treating, campsite decorating, costume contests and/or pumpkin carving. Others add a haunted house or haunted trail, scavenger hunt, campfire ghost stories, costume parades, and more.
This DNR tradition likely started with Mississinewa Lake's Autumn Camping Weekend in 1988. It was so popular they added a second weekend a few years later. Raccoon Lake, which hosts its 26th annual event this year, was likely the second.
Whatever the name, there's spooky fun to be had in Indiana's outdoors. You can make camping reservations six months in advance at camp.IN.gov. Many people do, so if you miss out, book early for next year. You and yours can also enjoy many activities without camping.
Watch calendar.dnr.IN.gov for specifics, and celebrate Halloween outdoors the DNR way.
And don't forget September. It's usually one of the most comfortable camping months, and you won't stand out if you don't wear a costume.
Covered Classics
Bridges celebrate state's rural culture
By Scott Roberts, OI Staff
As she stared at the photo in her hands, Maria Lee was dumbfounded. Must be an old photograph, she thought, to contain a red, two-span wooden covered bridge.
"I asked the person how long that picture has been in the family," she said. "They told me they had taken it a couple weeks ago. I'm like what? Where?"
The Bloomington resident drove an hour to Williams, in Lawrence County, and there it was.
Williams Covered Bridge is the state's longest two-span bridge.
"I was coming around the corner and remember seeing it out past the field," Lee said. "I also remember that feeling of excitement, walking up to it and getting to feel the air coming through the bridge, the water rushing underneath."
She was hooked.
Since then Lee has visited every covered bridge in Indiana, all 90 of them, over two years.
She knows who the major original builders were. J.A. Britton, J.J. Daniels, and the Kennedys are legends to her. She knows about the burr arch and the Howe truss, the most popular designs for Indiana covered bridges. She loves everything about covered bridges.
She's not alone, especially in Indiana.
Cutline: Adams Mill Covered Bridge was built in 1872 over Wildcat Creek in Carroll County. During peak fall color, it draws tourists aplenty. Frank Oliver photo.
To read the rest of this article subscribe to Outdoor Indiana or pick up a copy at most Barnes and Noble bookstores, and state park inns. To subscribe, click here or call (317) 233-3046.
FREE BIRD!
HOW AN INJURED BALD EAGLE GETS BACK TO THE WILD
By Scott Roberts, OI Staff
Photography by Frank Oliver
It's time for an X-ray and a checkup.
Kim McMunn, staff surgeon at Wildcat Creek Wildlife Center (WCWC) in Delphi, suits up in shoulder-length gloves. She collects a small, portable container with air holes and a caged front. With an assistant, she heads for a large, open pen where her patient, a young female bald eagle, is rehabilitating.
The eagle doesn't like to be disturbed, but progress on her ailments needs to be recorded. A rock-hard beak and sharp talons are essential for a bald eagle to hunt, but they can also be used for defense, sometimes against well-meaning people. And they have enough power to penetrate skin. Gloves are good protection, but they aren't impenetrable.
McMunn has been scratched before.
"It's a challenge in general," McMunn said about taking care of eagles. "They are physically powerful birds, and it's hard to handle one safely."
McMunn slowly enters the pen, followed by her colleague. The area's large size makes it ideal for raptor rehabilitation, because it has enough room for the birds to spread their wings and test their strength.
But the pen's size also makes it harder for McMunn to catch her patient.
McMunn gets closer, and the assistant enters behind her with a large towel. The eagle has done this dance before and moves away. But McMunn is determined.
She pounces, like the eagle might when ambushing prey. She grabs the eagle near the back and holds her steady. Her assistant covers the eagle with the towel.
They put the bird in the container and inject it with a sedative.
It's ready for the X-ray.
Cutline: Carol Blacketer, registered veterinary technician, spreads the eagle's wings as McMunn performs an initial health assessment; the eagle was under general anesthesia during the exam.
To read the rest of this article subscribe to Outdoor Indiana or pick up a copy at most Barnes and Noble bookstores, and state park inns. To subscribe, click here or call (317) 233-3046.
STICKY SITUATION
Sticktights are annoying but necessary
By Morgan Sussman
Photography by Frank Oliver
Almost anyone who enjoys the outdoors knows to expect and prepare for bugs when heading outside.
But one thing most hunters, anglers, and hikers aren't ready for is sticktights.
And for Purdue alumna Josey Cline, a former Marion County resident, the results were less than pleasant.
"I was prepared for hot weather and no air flow," Cline said. "It was last September and I was at a forested property near campus for one of my undergraduate labs."
Almost everything beneath the trees was burrs. Nearly instantly, she was covered in hundreds, possibly thousands, of them.
"I could ball up my pants and they would stay in a ball, and it hurt," she said. "They were stuck on so tight that I had to waddle back to the car to avoid more poking."
Most outdoorsy types likely have a similar tale.
Sticktights don't discriminate. They attach to people, pets, and wildlife alike.
"Some of the guys even had them stuck in their arm hair," Cline said.
But what exactly are these annoying ... things?
It turns out apples, oranges, and burrs have something in common.
"Most sticktights are fruits," said Mike Homoya, now-retired botanist for the DNR Division of Nature Preserves. "The barbed outside is the skin and the seed is inside."
Cutline: Cocklebur (Xanthium strumarium) is at home growing along stream banks, roadsides, and farm fields.
To read the rest of this article subscribe to Outdoor Indiana or pick up a copy at most Barnes and Noble bookstores, and state park inns. To subscribe, click here or call (317) 233-3046.