Main Content
Article
Outdoor Indiana - May/June 2019 - Featured Stories
From the Director
Looking for orchids in all the right places
Ice carved northern Hoosier landscape into kettle lakes
Becoming more accessible
From the Director
CELEBRATING OUR COAST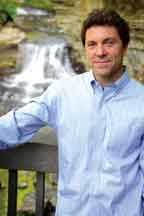 Last issue's story on Indiana's ports reminded me that June is a special month on Indiana's Lake Michigan coast—and to all Hoosiers, given that area's importance to our state.
It's Coastal Awareness Month, the annual celebration of our Lake Michigan watershed, an area roughly consisting of the northern half of Lake, Porter and LaPorte counties.
While many conservation-minded partners help, DNR's Lake Michigan Coastal Program (LMCP), part of the Division of Nature Preserves, takes the lead on organizing and overseeing the events calendar for Coastal Awareness Month.
LMCP's ultimate goal is a clean and healthy Lake Michigan, with all coastal resources preserved, viable, valued, and accessible for present and future generations. LMCP's staff works with a vast number of partners, including local governments and nonprofits on a wide variety of initiatives to plan and carry out actions that will contribute to the protection and restoration of water quality in Lake Michigan and coastal waterways. Coastal Awareness Month is a fun way to educate people about those collective efforts.
Last year, more than 70 family-friendly events were offered. This year's features include hikes at Indiana Dunes State Park, float trips on local waterways, beach cleanups, historic-site tours and film screenings. Many coastal cities and towns offer an assortment of other events.
See coastmonth.IN.gov for more.
June is the perfect time to get to know the magic of Indiana's sand and surf.
Looking for orchids in all the right places
Maybe even your yard
By Michael Homoya
Debra Young encountered a single, exotic-looking plant growing on her Bartholomew County property.
Mystified, she emailed a photograph to the DNR.
The plant was a green-fringed orchid.
"I never would have guessed that wild orchids occur in Indiana," she said. "I'm in orchid heaven!"
Maybe you too have never imagined that orchids grow in the Hoosier state. After all, the vast majority of orchid species—an overall number of which exceeds 25,000—are tropical.
Worldwide, there may be more orchid species than species of any other family of plants. But orchids are not confined to equatorial regions, nor to life under greenhouse glass. Orchids also grow in temperate and even boreal climates. Just not so many.
But in Indiana?
Yes, there's even a book written on the subject. Indiana has a surprisingly high number of orchid species recorded for the state, 45 in total. With the exception of six species, all still occur.
But to be clear, Indiana's wild orchids are not particularly common, at least not in a way that dandelions and violets are common.
So where are they? Does one need to delve into the deepest, most remote bits of Indiana wilderness to find them? No.
But to find one, the first thing you need to know is what makes an orchid ... an orchid. While it's not critical to understand the fine details, knowing the basic structure of the flower is necessary. After all, there are hundreds of other wildflowers to sort through. An orchid may look like just another face in the crowd if you don't know what to look for.
Cutline: Yellow lady's slipper sports a pouch for a lip that resembles a tiny shoe. Photo by Frank Oliver.
To read the rest of this article subscribe to Outdoor Indiana or pick up a copy at most Barnes and Noble bookstores, and state park inns. To subscribe, click here or call (317) 233-3046.
Ice carved northern Hoosier landscape into kettle lakes
Fun, business, culture and more came from glaciers
By Phil Bloom
Olin Lake differs from most other Indiana lakes but, at the same time, is also just like most other Indiana lakes.
Unlike the others, Olin has no summer cottages. Nor are there marinas, concrete seawalls, or piers for boats, pontoons or jet skis.
But like the others, Olin was formed thousands of years ago by a retreating glacier.
Olin is the largest lake in Indiana with an undeveloped shoreline. Tamarack, maple and ash trees rim its 103 acres of water. The surrounding uplands support basswood, musclewood, tulip poplar, walnut, red elm, hackberry, and dogwood. Those trees shelter Olin's mix of wildflowers—bloodroot, Jack-in-the-pulpit, cut-leaved toothwort, hepatica, spring beauty, skunk cabbage, touch-me-not, large-flowered trillium, Dutchman's breeches, false rue anemone, and trout lily.
There are about 450 glacially formed lakes in Indiana, mostly in 18 northern counties. The majority are arrayed in a band extending northeast from Kosciusko County through Noble, LaGrange and Steuben counties. Kosciusko and Steuben both claim 100 such lakes or more.
"They are all one version or another of what geologists call a kettle lake," said Tony Fleming, a professional hydrogeologist. "A kettle lake is just a depression from a block of glacial ice—all of our lakes, with a few exceptions, are kettle lakes."
Cutline: Find serenity by kayaking 103-acre Olin Lake while surrounded by its undeveloped LaGrange County shoreline. Photo by Frank Oliver.
To read the rest of this article subscribe to Outdoor Indiana or pick up a copy at most Barnes and Noble bookstores, and state park inns. To subscribe, click here or call (317) 233-3046.
Becoming more accessible
DNR properties offer ever-growing list of options
By Scott Roberts, OI staff
From state parks to state forests to recreation areas and nature preserves, Indiana's DNR properties provide a ton of amenities to serve all.
"All" includes people with disabilities of many types, and DNR properties offer a wide variety of accessible features to accommodate them.
One target area for improvement is campgrounds. All state parks that offer camping have accessible camping options.
Several properties, including Charlestown, Lincoln, Prophetstown and Indiana Dunes state parks, as well as Shale Bluff Campground in Hardy State Recreation Area, Mississinewa Lake's Miami SRA, and Salamonie Lake's Lost Bridge West SRA, disperse accessible camping within their campgrounds.
But some other properties, largely due to their having been developed so long ago, have not dispersed their accessible campsites among their campgrounds—their accessible campsites are in separate areas, mostly near comfort stations.
Ric Edwards, Americans with Disabilities Act (ADA) safety program director for DNR, is helping to change that and improve other features, property by property.
Edwards has personal experience in using features for people with disabilities. He's rolled in a wheelchair since a 1970 car accident while a high school student left him without the use of his legs.
His parents encouraged him to get out and live his life despite his disability. Doing so trained him for his current role, part of which is to make anything the DNR does more accessible to more people.
Cutline: Jasper-Pulaski Fish & Wildlife Area's sandhill crane viewing platform has a wood-decked ramp with an easily climbed slope. Photo by John Maxwell.
To read the rest of this article subscribe to Outdoor Indiana or pick up a copy at most Barnes and Noble bookstores, and state park inns. To subscribe, click here or call (317) 233-3046.