Main Content
Article
Outdoor Indiana - March/April 2019 - Featured Stories
From the Director
Grasslands for gamebirds & songbirds
YES, INDIANA, WE HAVE PORTS
VETS FLY-FISH FOR—AND CATCH—FRIENDSHIP AND COMFORT
From the Director
STATE FORESTS: PLACES TO PLAY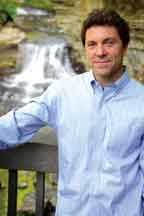 As the warmer recreation season approaches, I encourage you to explore a group of DNR properties you may have previously overlooked.
Depending on the specific site, they offer multiple types of camping and cabins; trails for hiking, mountain biking and riding horses; and in-season hunting, wildlife watching and birding. All this and much more is surrounded by their hallmark—a cumulative 158,000 acres of trees.
I'm talking about Indiana State Forests.
They may look like state parks, but they're intentionally different. First, they're generally bigger. Four cover more than 23,000 acres. By comparison, the largest state park weighs in at about 16,000 acres. More land means you'll get a remote experience that's not available in our state parks.

Our Division of Forestry actively manages this vast acreage for multiple uses. Sustainable timber, by State law, is a primary objective. That means portions of these forests are periodically closed while selected trees are removed or thinned to promote healthy growth and habitat diversity, and to make room for younger trees. In any year only about 2–3 percent of State Forests are so touched by management activities. That leaves plenty of space to play and enjoy the diverse wildlife that is naturally drawn to these managed areas.
For more information, see the DNR Recreation Guide. Copies are available throughout Indiana and at dnr.IN.gov/5280.htm.
Please continue to visit other DNR properties, but this year, make sure to include a State Forest.
Grasslands for gamebirds & songbirds
Initiative aims for plantings to benefit birds and more
By Marty Benson
Do you eat?
Do you enjoy the sweet music of songbirds?
Are you a gamebird hunter?
If you answered yes to at least one of those questions, you likely can benefit, at least indirectly, from a relatively new DNR initiative known as GGS.
If you said yes to two, you can almost certainly benefit. And if you nodded to all three, GGS, no matter how you choose to arrange what the letters stand for, might be some of the best conservation news you've heard in the last few years.
Officially, GGS stands for the DNR's Grasslands for Gamebirds & Songbirds initiative, for which the Division of Fish & Wildlife (DFW) assembled a partnership of conservation agencies last year. Nearly all the pieces are now in place to bring grassland habitats back to Indiana and improve wildlife population levels.
Cutline: Members of the Jaskula family from Rensselaer walk through the grassland habitat of Fisher Oak Savanna Nature Preserve near Wolcott.
To read the rest of this article subscribe to Outdoor Indiana or pick up a copy at most Barnes and Noble bookstores, and state park inns. To subscribe, click here or call (317) 233-3046.
YES, INDIANA, WE HAVE PORTS
Three, in fact
By Phil Bloom
Hollywood typically portrays shipyards as places where shady characters go to engage in nefarious acts amid endless stacks of cargo containers.
In the real world, shipyards are far more benign locales with the sort of things you'd expect—large ships laden with materials, the clang of metal on metal, the rumble of diesel engines and the whine of hydraulic lifts. You'll also hear horns sounding off, muffled voices of longshoremen at work, and the chatter of seagulls.
Ships come in. Ships go out.
It's fairly routine, but there's a behind-the-scenes story that's somewhat shrouded in mystery because of national security measures implemented after 9/11.
"We're kind of like a little city that people aren't familiar with," said Ian Hirt, manager at Burns Harbor on Lake Michigan. "People aren't able to come in and see what we do, so when people aren't sure what's going on and it's big business or big industry, human nature is that it has negative connotations. Part of our goal is to get out and spread the word."
That story is environmental stewardship.
But hold on a second ... Indiana has shipyards?
That can't be, you say. We're hundreds of miles from the ocean.
Cutline: The St. Lawrence Seaway connects the Great Lakes—and Burns Harbor—to the Atlantic Ocean. The northwest Indiana site provides year-round barge access to more than 20 states and the Gulf of Mexico.
To read the rest of this article subscribe to Outdoor Indiana or pick up a copy at most Barnes and Noble bookstores, and state park inns. To subscribe, click here or call (317) 233-3046.
VETS FLY-FISH FOR—AND CATCH—FRIENDSHIP AND COMFORT
Project Healing Waters works wonders
By Phil Bloom
There was a hole in the living-room wall of the small apartment Joe Jackson shared with his wife and four kids. The hole got a little larger each time Jackson chucked his scissors in frustration after messing up the imitation fishing flies he was trying to tie.
"I'd get so angry," he said.
Enough that his wife moved her computer out of the way but not enough to stop Jackson from trying again.
"I needed something to get angry at," he said, noting the painstaking steps needed to make a fly out of deer hair. "When you put deer hair flies together, you spend a lot of time packing hair in there.
"Then you make that first cut when you don't know what you're doing, and you run right across the bottom and nick that thread. It just goes poof, right in your face. I was, 'Yeah, this is something I can get angry at.' "
The anecdote illustrates where Jackson was at that point in his life and where he's at today.
"I don't have rage issues anymore," he said.
Jackson found a coping mechanism in Project Healing Waters, a program he encountered somewhat by chance at the Roudebush VA Medical Center in Indianapolis.
Developed in 2005 by Trout Unlimited (TU) and the Federation of Fly Fishers (FFF), Project Healing Waters (PHW) uses fly-fishing to help military veterans overcome emotional or physical obstacles they encounter when adjusting to civilian life.
Cutline: Air Force veteran and retiree Chris Jackson, left, and Joseph Smith, the program leader for Project Healing Waters, talk at water's edge on Sugar Creek. The two have forged a friendship through fly-fishing
To read the rest of this article subscribe to Outdoor Indiana or pick up a copy at most Barnes and Noble bookstores, and state park inns. To subscribe, click here or call (317) 233-3046.