Main Content
Article
Get Alarmed Smoke Alarm Program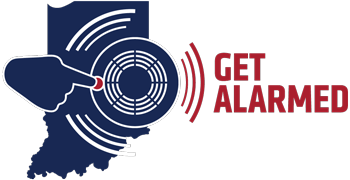 About Get Alarmed
In late 2018, the Indiana Department of Homeland Security received a federal Fire Prevention and Safety Grant to dedicate resources toward reducing injury and preventing fire deaths in high-risk populations.
The $521,000 grant is supporting the purchase of 10,000 smoke alarms with 10-year lithium ion batteries over a two-year period. The IDHS Get Alarmed campaign has been working closely with service providers and fire departments since Spring 2019 to distribute alarms across the state at no cost. The grant requires fire departments to personally install all alarms.
The Indiana State Fire Marshal tracked 93 fire fatalities in 2018, a significant increase from the previous year. Nationally, more than two-thirds of fatal fires occur in home with no working smoke alarms.
The Indiana State Fire Marshal is accepting requests from fire departments to install smoke alarms in their communities. If interested, please submit a request via the link below to be contacted about how to participate in the Get Alarmed campaign and receive smoke alarms.
Restrictions
Must be an installation program: The smoke alarms must be installed by members of a fire department or by members of an organization's partnerships (e.g., Boy Scouts, church organizations, Kiwanis, Elks and Optimist clubs, etc.).
This program will only provide:

One (1) dual-function smoke alarm per household for the deaf and hard of hearing households.
One (1) 10-year non-tamper photoelectric smoke alarm per level per household.
If more than three (3) smoke alarms are needed for a household, it is the responsibility of the fire department to educate the homeowner about purchasing another one.
There will be an application limit of twenty-four (24) ten-year non-tamper battery smoke alarms per application.
Questions
Please e-mail or mail questions to:

getalarmed@dhs.in.gov

Indiana Department of Homeland Security
302 W. Washington St.
IGCS, Rm E241
Indianapolis, IN 46204