The most common natural disaster America faces is flooding. In 2021, 146 lives were lost in floods. Natural disasters such as floods are unpredictable due to the fact they can take a few weeks or a few hours to develop. Floods cannot be prevented, but Hoosiers can be prepared when one occurs by taking the following safety precautions and considering buying flood insurance.
State Multi-Hazard Mitigation Plan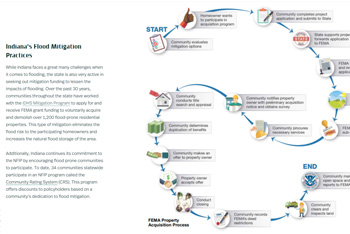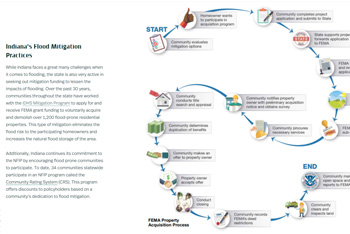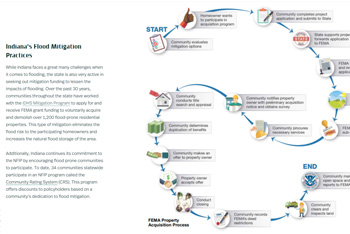 The State Multi-Hazard Mitigation Plan lays the foundation to building resiliency in the State of Indiana by identifying Indiana's greatest risks for disasters and creating strategies to mitigate these risks. The plan makes Indiana eligible to apply for, and receive, FEMA Hazard Mitigation Assistance funding through the Hazard Mitigation Grant Program, Pre-Disaster Mitigation Grant Program and the Flood Mitigation Assistance Program.
The plan modeled the potential statewide impacts of a 100-year flood event, and results estimated more than 57,000 buildings could be impacted and damaged in the event of a that kind of flood. Damage was estimated to be more than $5 million. An interactive story map by the Polis Center at IUPUI showcases this information and other highlights of the plan with graphics, maps, animations and more.