Radiation Awareness
Radiation Awareness Week
The Indiana Department of Homeland Security (IDHS) encourages Hoosiers to identify the common misconceptions about radiation and learn more about its role in everyday life during Radiation Awareness Week (Feb. 14–20, 2021).
About Radiation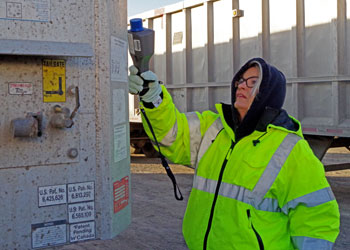 A radiation specialist scans a semi truck for potential radioactive material.
Although radiation is naturally present in our environment, it can have either beneficial or harmful effects, depending on its use and control. The radiation programs at IDHS have the responsibility of regulating the use and transportation of all radioactive materials in Indiana, as well as helping the state and local communities prepare for potential radiological emergency situations.
According to the International Atomic Energy Agency (IAEA), most radioisotopes are artificially produced in research reactors and accelerators. However, out of more than 3,000 known existing radioisotopes, 84 of them occur naturally in nature. Additionally, specific types of radioisotopes are prevalently used in the medical and industrial fields.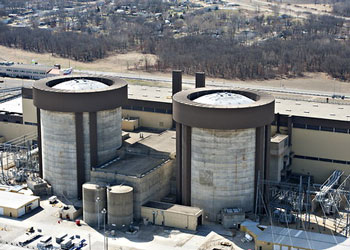 Braidwood Nuclear Generating Station, located in northeastern Illinois, provides Chicago and northern Illinois with electricity.
Disposing of radioactive material is an intricate and thorough process. Materials with radioisotopes sent to Indiana landfills from hospitals, industries and the environment are passed through radiation scanners as they travel toward their destination. When one of these scanners detects radiation, IDHS responds to the location to investigate and identify the type of radiation to confirm it is not a health risk, and to have it disposed of safely.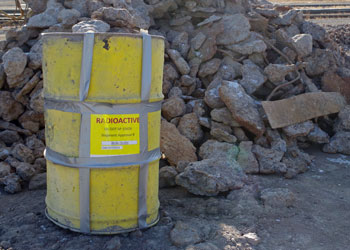 Rocks and rubble are examples of objects that are capable of containing radioactive isotopes.
Radioisotopes from medical waste and construction rubble are common and safe to deposit into landfills, as they have a short half-life. Materials with radioisotopes containing a longer half-life, however, are required to be sent back to wherever they were shipped from, even if they came from outside the state of Indiana. These cases are rare.
To learn more about the different types of radiation and the impacts it has on human health, visit the Centers for Disease Control and Prevention's Radiation and Your Health webpage.
For more information on the Radiological Emergency Preparedness (REP) Program at IDHS, visit the Radiological Emergency Preparedness Program webpage.
---
Ask the IDHS Experts: Radiation Fact vs. Fiction
Everyone knows radiation gives you superpowers, glows bright green and can cause you to grow extra limbs, right?
If you live in a Hollywood movie or TV show, sure. In reality, there is not a chance any of that is going to happen. The Indiana Department of Homeland Security's (IDHS) Radiological Emergency Preparedness (REP) Program answers five of the commonly misunderstood radiation questions below:
Learn More
Debunk more radiation myths by visiting the Centers for Disease Control (CDC) website.
Learn more about the IDHS Radiological Emergency Preparedness Program and how it serves the state of Indiana.