Hazmat and Radiation Programs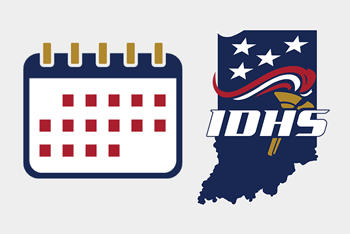 Schedule an Appointment
Please schedule an appointment online before you visit to conduct business with IDHS. No walk-ins will be accepted. Note: This system is not to be used for scheduling inspections.

Visit the individual program pages below for CBRNE/Hazardous Material information
Radiological Emergency Preparedness Program | Radioactive Materials Registration | Radioactive Transportation Program
Hazmat | LEPC Information | Indiana Emergency Response Commission

RND Program: Event Sweep for Illicit Radioactive Materials (2020)

RND Program: Event Sweep for Illicit Radioactive Materials (2020)

RND Program: Event Sweep for Illicit Radioactive Materials (2020)
Mission
The Indiana Department of Homeland Security CBRNE Section provides assistance to any emergency response agency within Indiana with preparation, response, mitigation and recovery from an incident involving a CBRNE/Hazardous Material/Radiation incident on a 24-hour, 7-days-a-week basis.
CBRNE Defined
CBRNE is an acronym that stands for "Chemical, Biological, Radiological, Nuclear, and Explosive." The term was developed to describe the different type of weapon systems that may be used in a criminal or terrorist event. Other terms that are synonymous with CBRNE are: Weapons of Mass Destruction (WMD) that is used by various Federal government agencies and Nuclear, Biological, Chemical (NBC) that is used by the United States military.
History of CBRNE
Since the terrorist attacks of September 11, 2001, all emergency response organizations throughout the world have speculated about "what" the next terrorist attack may bring. The anthrax attack of October 2001 further showed that the unthinkable is really possible. Various scenarios have been developed and preparations for responding to each of these scenarios continue.
CBRNE Information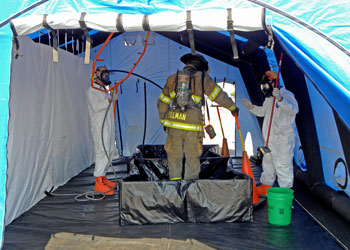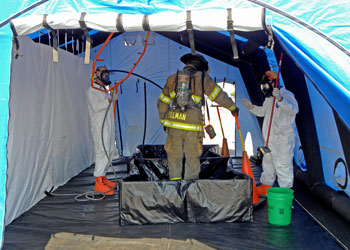 CBRNE, WMD, NBC, HAZMAT, regardless what we call these materials and/or weapon systems; they are hazardous materials that pose serious short-term and or long-term hazards to emergency first responders and members of the general public. Emergency response operations to a terrorism or criminal incident using CBRNE /hazardous materials are based on the basic concepts of hazardous materials response that have been used by emergency response organizations for over 30 years. In simple terms, responders cannot safely and effectively respond to terrorism or criminal incidents involving CBRNE materials if they do not first understand hazardous materials response.
IDHS CBRNE Staff
The emergency response staff assigned to the CBRNE section are hazardous materials and radiation specialists who have been trained and equipped to assist local jurisdictions with any major incident. Services provided by the CBRNE section are provided at no cost to the requesting agency.
Emergency Assistance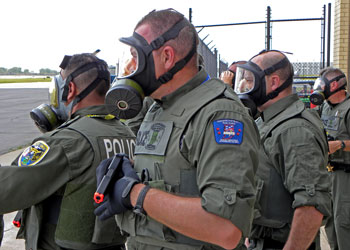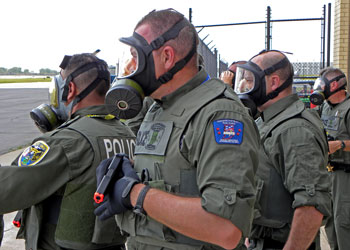 If you are a local, state, or federal emergency response agency and need emergency assistance from our staff, you can request this assistance by calling the State of Indiana Emergency Operations Center at 1-800-669-7362 (press 1).