Hazmat and Radiation Programs

Visit the individual program pages below for CBRNE/Hazardous Material information
Radiological Emergency Preparedness Program | Radioactive Materials Registration | Radioactive Transportation Program
LEPC Information | Indiana Emergency Response Commission
About IDHS Hazmat and Radiation Programs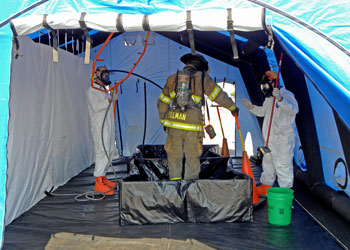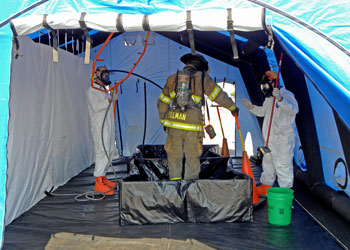 The Indiana Department of Homeland Security (IDHS) has three radiation programs responsible for assuring the health and safety of Hoosiers and the environment from radioactive materials:
Radiological Emergency Preparedness coordinates efforts to protect and respond to commercial nuclear power plant incidents
Radiological Transportation Program plans, prepares and coordinates emergency services and state agencies in transportation incidents involving radioactive materials
Radiological/Nuclear Detection works with state and local agencies to deter, detect and mitigate attempts to use nuclear or other radioactive materials in harmful ways
The IDHS radiation programs also have the responsibility to regulate the use of radioactive materials in the state and registers all facilities that have radioactive materials. If radioactive materials are found in the public in the state, IDHS conducts investigations to locate, identify, secure and ensure proper disposal of the materials in conjunction with the Indiana Department of Environmental Management and others.
Emergency Assistance
IDHS has a team of emergency response personnel (hazmat specialists) who serve as on-site technical advisors at large fires and hazardous materials incidents. They respond to a wide range of emergencies, carrying a variety of technical instruments and equipment, and work alongside local and state agencies during incidents. Local, state or federal emergency response agencies that need emergency assistance from IDHS may call the State of Indiana Emergency Operations Center at 1-800-669-7362 (press 1).