Main Content
Article
Radiological Emergency Preparedness Program
Mission
The Indiana Department of Homeland Security's (IDHS) Radiological Emergency Preparedness Program (REP Program) coordinates efforts to protect and respond to incidents involving commercial nuclear power plants. The REP Program provides the State of Indiana and local communities with plans, training and guidance related to nuclear energy incidents. The IDHS REP Program follows federal guidance and policies to ensure capabilities exist to prevent, protect against, mitigate the effects of and respond to and recover from incidents involving nuclear power plants.
Purpose
Indiana is considered part of the emergency preparedness zones for four commercial nuclear power plants, two in Michigan and two in Illinois. This is a geographical area surrounding a commercial nuclear power plant for which specialized emergency planning is needed. Indiana is part of the ingestion pathway emergency preparedness zone, which includes a radius of approximately 50 miles from each of the nuclear power plants.
The Nuclear Regulatory Commission is responsible for the on-site emergency preparedness at all U.S. Nuclear Power Plants. Federal Emergency Management Agency (FEMA) has the lead role with off-site emergency planning and preparedness.
Participation in REP planning and preparedness adheres to the program requirements in 44 CFR Part 350 and the joint Nuclear Regulatory Commission/FEMA document NUREG 0654/FEMA-REP-1, as well as and the FEMA REP Program Manual. The REP Program Manual has specific planning standards outlined that apply to the regulated entities, states and communities. FEMA must review state radiological emergency plans and preparedness, and this oversight ensures reasonable assurance that appropriate protective measures can be taken off-site in the event of a radiological incident.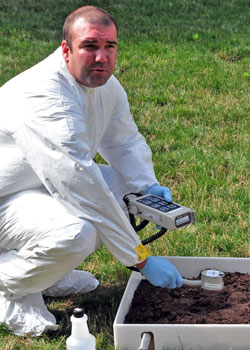 Ingestion Pathway Preparation and Planning
There are four nuclear power plants located within 50 miles of 11 Indiana counties. These counties are covered in part or whole by the Ingestion Pathway Zones (IPZ) of those four nuclear power plants.
The four plants are: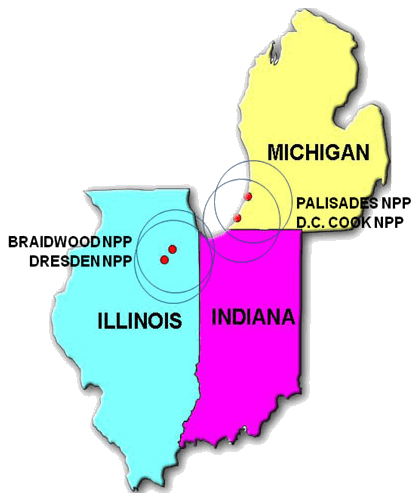 Braidwood in Illinois
Dresden in Illinois
FEMA issued a new REP Program Manual in January 2016. The REP Program Manual is a guidance and provides 16 planning standards. Not all the standards apply to an ingestion pathway plan like the one required for Indiana. Within each planning standard are additional criteria that should be incorporated into the plan. The Indiana Ingestion Pathway Plan has been revised to meet the January 2016 REP Program Manual. The Indiana Ingestion Pathway Plan is comprised of the base plan, emergency support function standard operating procedures, field monitoring, radiochemical assessment, definitions/acronyms, forms and an annex that contains additional information. The Indiana Ingestion Pathway Plan addresses the required standards as well as changes in the U.S. Environmental Protection Agency Protective Action Guidance 2017.
The IDHS REP Program provides training and education regarding nuclear power plants and the ingestion pathway, including the basic effects of radiation, identification of possible preventative protective actions taken for food and water as well as sampling techniques for soil, water and food stuffs. FEMA evaluated exercises for Ingestion Emergency Planning Zone are conducted every eight years.
The following 11 Indiana counties are located in part or whole within the IPZone of the nuclear power plants:
Elkhart County
Jasper County
Kosciusko County
LaGrange County
Lake County
LaPorte County
Marshall County
Newton County
Porter County
Starke County
St. Joseph County
Additional Resources
U.S. Nuclear Regulatory Commission Information
Federal Emergency Management Agency (FEMA) Information
U.S. Environmental Protection Agency (EPA) information