---
Purpose
The Coalition for Court Access was created by Supreme Court order on May 17, 2016 to provide a focused and comprehensive organizational structure for Indiana's civil legal aid programs. The twenty-one-member Coalition will coordinate all Supreme Court related programs designed to provide civil legal aid to those with limited financial resources. The Coalition includes judges, law school representatives, civil legal aid and pro bono providers, and Indiana State Bar Association and Foundation members. The Indiana Bar Foundation serves as the fiscal and administrative agent for the Coalition. View the 2018 Annual Report .
A flyer can be printed or shared to social media (PDF format) (JPG format) to promote the resources available.
---
Documents
Minutes
Resources
Lawyers give back: Pro bono contributions by Indiana attorneys in 2020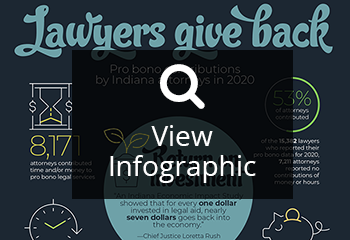 This infographic [PDF version] [text version] details self-reported pro bono contributions for calendar year 2020. More than 8,100 attorneys contributed time and/or money to those in need and gave $1.1 million to legal service groups. For previous data, see 2019 pro bono infographic [text version] .
Hon. Geoffrey Slaughter, Chair
Indiana Supreme Court
Kerry Hyatt Bennett
Indiana Coalition Against Domestic Violence
Jean Blanton
Stoll Keenon Ogden
Emily Weikert Bryant
Feeding Indiana's Hungry
Traci Cosby
Legal Consultant
Charles Dunlap
Indiana Bar Foundation
Monica Fennell
Taft Law
Carolyn Clay Hall
Ardagh Group
Hon. Melissa May
Court of Appeals of Indiana
Victor Quintanilla
Indiana University Maurer School of Law
Joe Skeel
Indiana State Bar Association
Hon. Stephanie Steele
St. Joseph County Superior Court
Hon. Elizabeth Tavitas
Court of Appeals of Indiana
Hon. Charles K. Todd
Wayne Superior Court #1
Michael Tolbert
Tolbert & Tolbert
David Van Gilder
Fletcher Van Gilder LLP
Alex Van Gorp
Damien Center
Office of Diversity, Equity & Inclusion
317-232-2542