Policies and Procedures Manual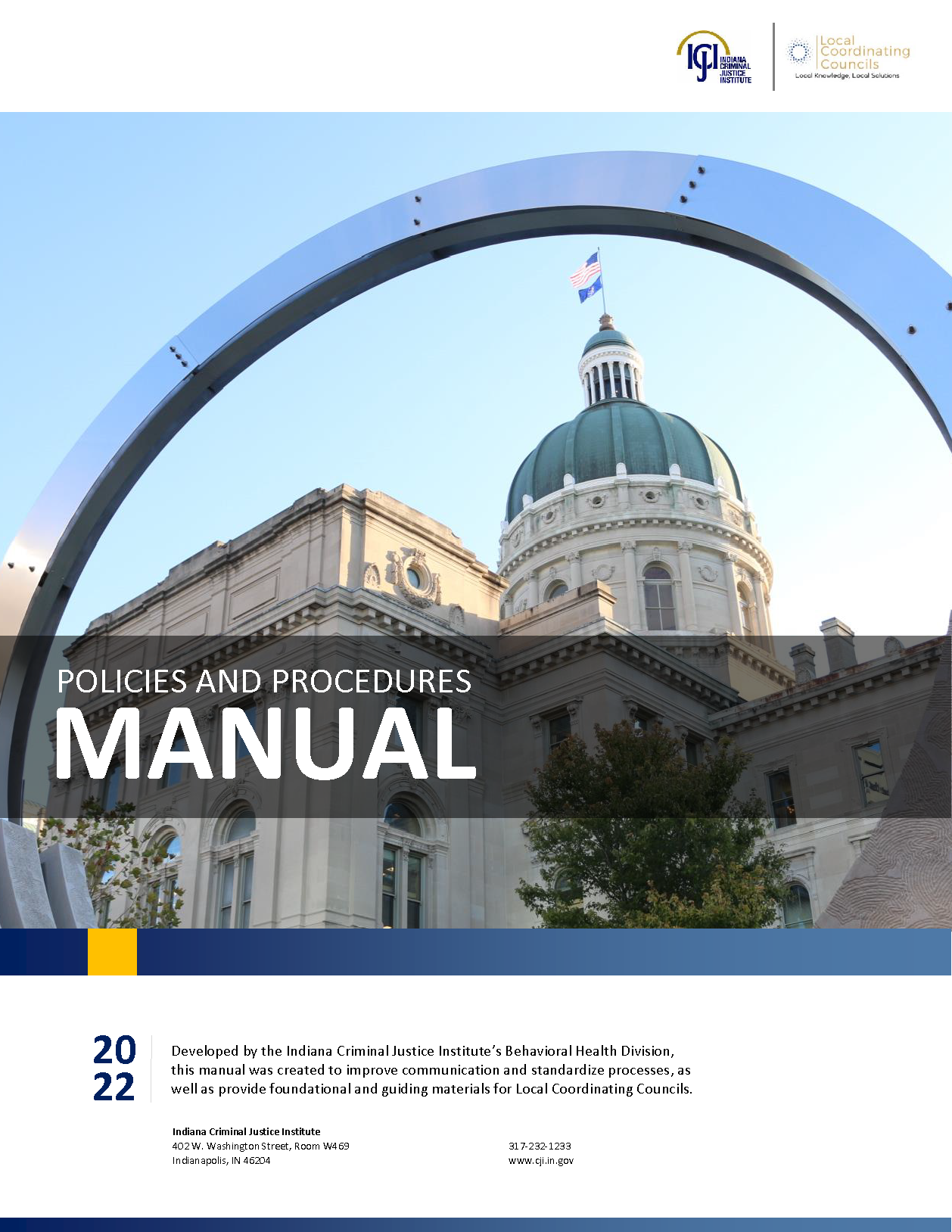 Developed by the Indiana Criminal Justice Institute's Behavioral Health Division, this manual was created to improve communication, standardize processes and provide foundational and guiding materials for Local Coordinating Councils. The manual is divided into four distinct sections: About, Responsibilities, Granting, and Appendices. It should be noted that all of the information included in this manual is critical to a Local Coordinating Council's ability to function. Additionally, it ensures a baseline level of knowledge that allows the Behavioral Health Division's Program Managers to provide you with focused technical assistance.
To assist LCCs, ICJI's Behavioral Health Division hosted a webinar on how to fill out and complete the Comprehensive Community Plan. To download the webinar presentation, click here.
Comprehensive Community Plan + Certification Letter
The Comprehensive Community Plan (CCP) is a systematic and community-driven gathering, analysis, and reporting of community-level indicators for the purpose of identifying and addressing local substance use problems. The CCP identifies problems that the LCC will address through SMART goals. Alongside the CCP, LCCs are required to submit a certification letter. The letter is an attestation that the CCP was completed as a coalition and that the LCC understands it is required to submit quarterly reports in order for the LCC to maintain active status.
The CCP, along with the Certification Letter, must be submitted via IntelliGrants by April 1.
Reporting Requirements & Meeting Minutes
In addition to the CCP, the LCC coordinator is responsible for electronically submitting Quarterly Reports and an End of Year Report to ICJI via IntelliGrants. Quarterly Reports are due on the 15th of July, October, and January, and the End of Year Report is due on May 1st every year. The coalition should maintain an archive of documents sent to the state as a matter of record. In addition, Meeting Minutes should be completed for each meeting and submitted along with the Quarterly Reports.
Below are the templates for the Quarterly Reports, End of the Year Report and Meeting Meetings.
Webinars

The State of Tobacco Control

This webinar presents the American Lung Association's annual report on the "State of Tobacco Control" and reviews Indiana's report card in five key areas proven to prevent and reduce death and disease caused by tobacco use. This is especially important for those populations and communities most impacted overall by tobacco use and secondhand smoke, who are also facing a disproportionate burden from the pandemic. Particular attention is given to e-cigarette products and the use of flavored tobacco products, including the use of menthol. A call to action with ideas and free resources to help support tobacco recovery in your community are provided as well.

---

Data to Action Training

This recorded training provides an introduction to how Indiana's Local Coordinating Councils can use data effectively to complete the Strategic Prevention Framework (SPF) process. To supplement the information presented in this training, we advise you to download "A Guide to SAMHSA's Strategic Prevention Framework," which can be found by clicking the link below.

A Guide to SAMHSA's Strategic Prevention Framework

---

2019 Data Presentation

Watch this webinar to better understand the 2019 research efforts of the Behavioral Health Division benefiting the Local Coordinating Councils of Indiana. An overview of two survey projects, as well as a focus group project, will be provided.