Article
Section
The Excise Director
On March 17, 1933 Governor McNutt appointed Linton businessman Paul P. Fry as the first permanent Excise Director. As Director, Fry was granted sole authority in issuing alcoholic beverage licenses. Faced with a mad rush of applications from all corners of the state, Fry and his staff were often found working late hours in their Statehouse offices in a race to issue permits as repeal loomed.
When Prohibition ended at midnight on April 7, 1933 thirsty Hoosiers were able to down a glass of beer from their local restaurant, but liquor could only be purchased at pharmacies with a doctor's prescription. With no enforcement agency of his own, however, he was forced to rely on local police to enforce the state's alcohol laws.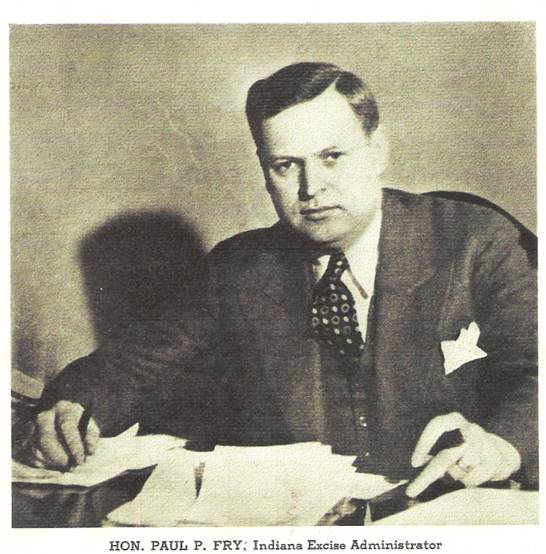 ". . . Dad had a lot of "good" stories about "visits" from close friends of the Mafia, hoping to influence some of the decisions to be made regarding the control of liquor laws. Since Indiana was so close to Chicago and so called gangsters, there were many stories involving the change of laws and those persons and companies that would be affected by such. I remember so well one night about 2 a.m., when a pounding on our front door awakened my mother and me and my Dad. When he went to the door, he was confronted by 3 burly men who proceeded to yell obscenities and threats if certain things weren't done in regard to upcoming liquor laws. It was an interesting time in my Dad's life."
- Jane Fry Baker (daughter of Paul Fry) - July 15, 1996
On November 11, 1933 McNutt appointed five board members to assist Fry in promulgating new laws as part of the governor's reorganization of the state's executive branch. The board, however, was strictly advisory, and Fry retained the sole authority to grant or deny permits.
The changes recommended by Fry and the five advisory board members became part of the Alcoholic Beverage Act of 1935, which created the Alcoholic Beverage Commission and it's enforcement division, the Indiana State Excise Police.
When the Beverage Act of 1935 took effect on March 11, 1935, Fry was named the first chairman of the A.B.C., a post he held until his resignation on May 1, 1937.