Creative communities have unique, authentic arts and cultural identities that build upon history and long-standing traditions of the community. Here's what that looks like in Fort Wayne and Goshen.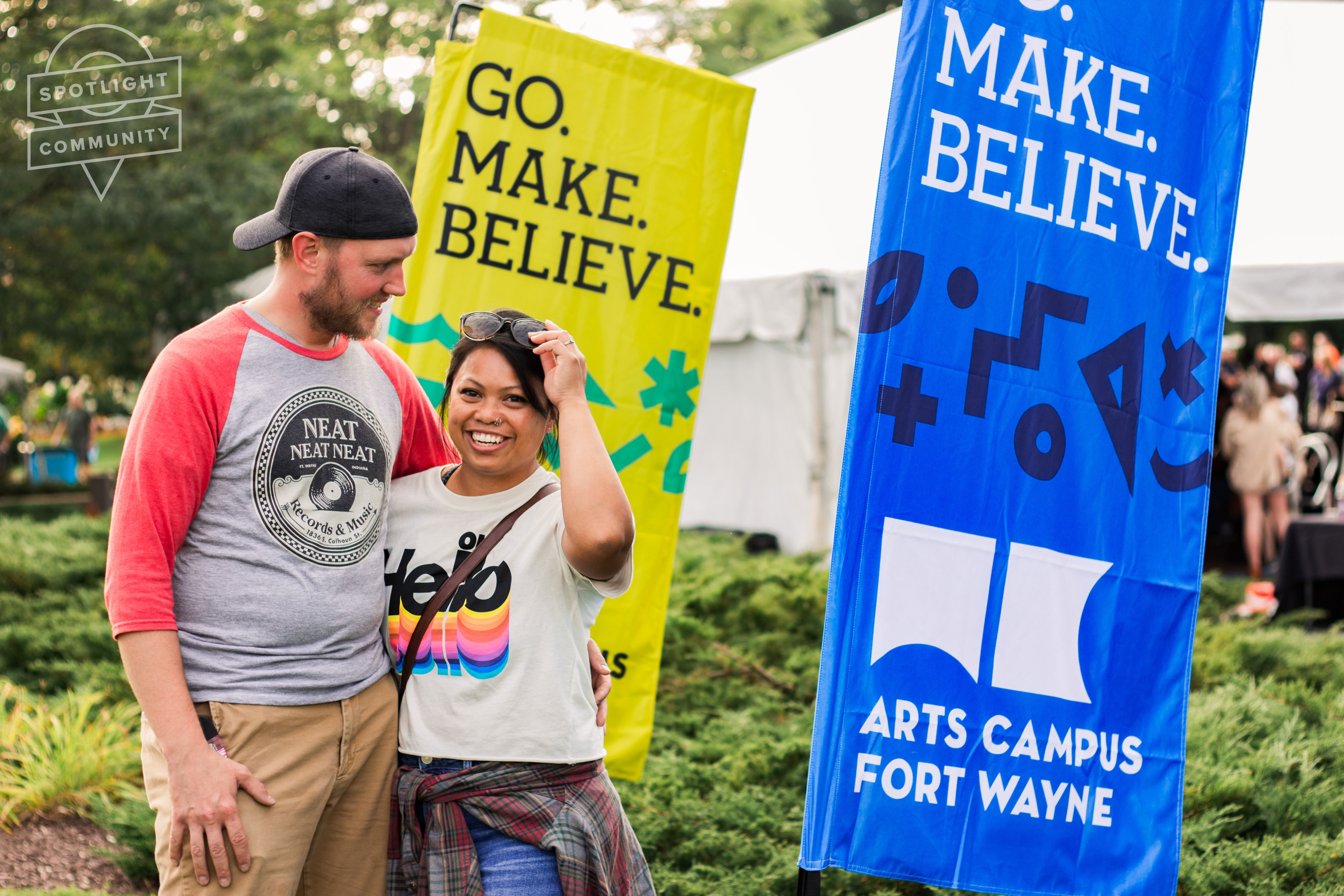 Fort Wayne
Areas of Downtown Fort Wayne located along the canal route were central to trade and community gathering, including its arts district. Specifically, the area now recognized as Freimann Square was home to Fort Wayne's first theater – which featured public shows for a small fee. In 1853, the Colerick Opera House was opened. This was the first fully equipped theater in the state of Indiana. The first professional company to visit Fort Wayne was Sanford's New Orleans Opera Troupe in 1855, and in 1856, P.T. Barnum treated the town to an appearance of his celebrated attraction, Tom Thumb. After the Civil War, theatre interests improved, and Fort Wayne came to be known as a "good theatre town." Well-known performers such as Edwin Forest, Laura Keene, and Edwin Booth came to the Colerick Opera House. The most common shows of the time were those of the minstrel troupes and burlesque, with occasional productions of perennial favorites: "Uncle Tom's Cabin," "The Black Crook," and "The Hidden Hand."
Today, the community continues to see much of this history reflected in the arts campus and community. While the Colerick Opera House no longer exists, the Arts United Center is home to theatrical productions, dance concerts, conductor workshops, municipal events, and other community functions. The community's trading roots have grown to include Sweetwater, the largest distributor of musical technology in the nation. As time passes, the community will continue to adapt and evolve – and Arts Campus Fort Wayne will proudly stand at the forefront of arts and culture activity in Fort Wayne and Northeast Indiana.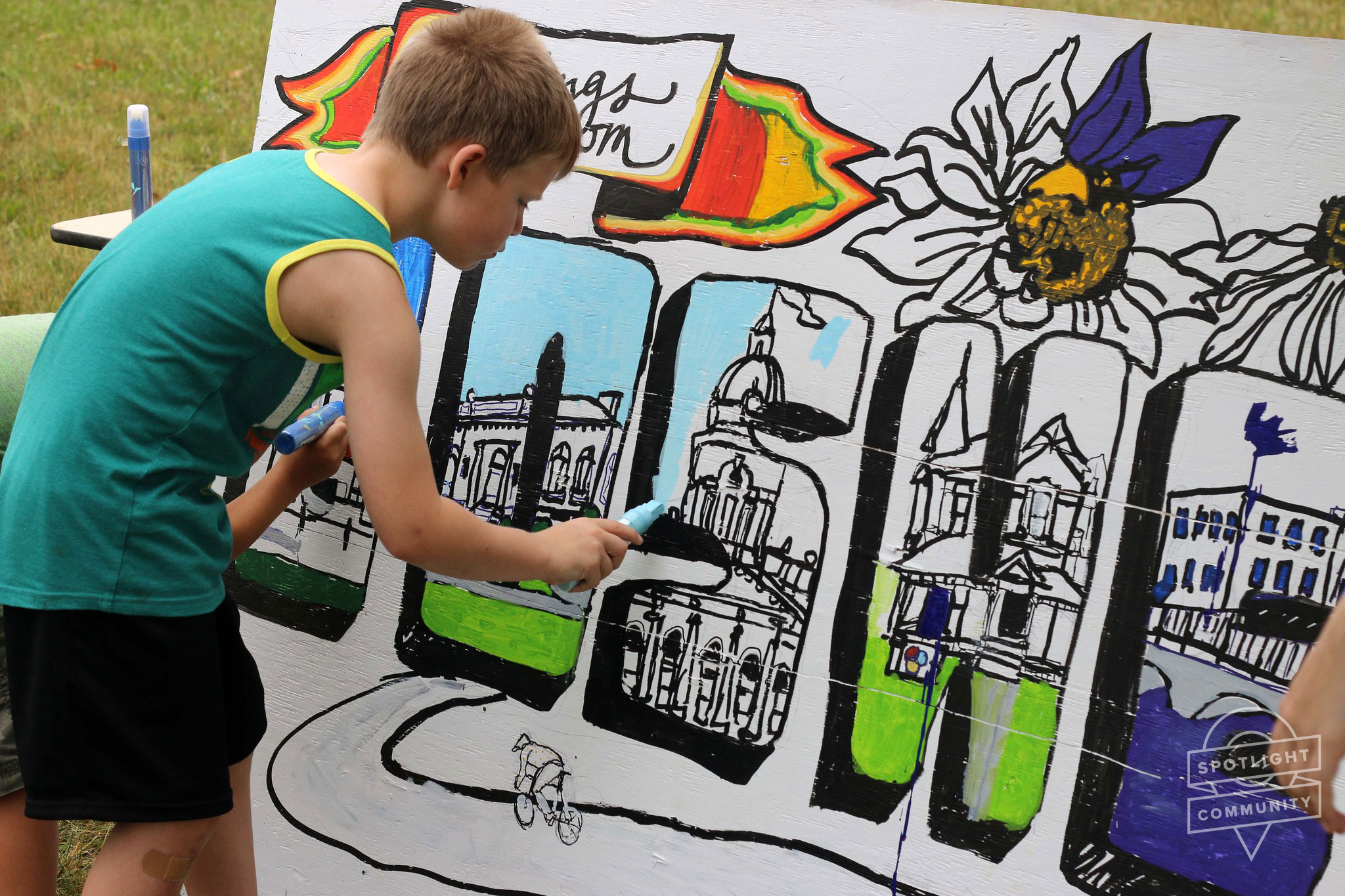 Goshen
Residents and visitors alike know Downtown Goshen as the place to be when they are looking for a cozy nook to grab a warm drink, an authentic gift for a loved one, or a place to engage in creative play. But it didn't always look like the bustling neighborhood it is now.
The downtown district slowly gained its reputation piece by piece, going back to the mid 1980s, when Goshen resident David Pottinger and his wife Faye Peterson Pottinger began restoring buildings along Main Street. David and Faye were awarded the Dorothy Richardson Resident Leadership Award by Neighborworks America in 2010 and the Larry A. Conrad Civic Service Award from the Indiana Association of Cities and Towns in 2014 for his work downtown.
With every restoration came artists and entrepreneurs who worked hard to fill the newly remodeled properties. In 1998, a group of pottery artists came together to form a studio space, and they formed the Clay Artists Guild. In later years other artists would join and create four other guilds, all of which are now housed in the Millrace Center, behind the city's farmers market. In 2005, the city started the Facade Grant Program, which promotes the maintenance and rehabilitation of central business district properties, pushing forward opportunities for building owners to breathe new life onto their properties.
Goshen's artistic influence grew organically over the years, thanks in part to the artists guilds, the city's sense of entrepreneurship and Goshen College, a liberal arts college south of the downtown district. Artists who had left a city with vacant buildings upon graduating college returned to a vibrant community years later, and some decided to move back.
A momentum began building in the mid to late 2000s; that's when a group of community members came together and planned Frist Fridays, a series of monthly events with the aim of offering free family-friendly activities. Two residents, Gina Leichty and Eric Kanagy, started Downtown Goshen, Inc., a non profit that to this day promotes the locally-owned businesses in the downtown district and organizes First Fridays. Downtown Goshen, Inc. is a Community Member of Main Street America.
---
Fort Wayne and Goshen have both been recently recognized as Spotlight Communities as a celebration of this work. Interested in learning more about Spotlight Communities and the Creative Community Pathway? Click here.
---
Program Contact
Paige Sharp
Deputy Director of Programs
Indiana Arts Commission
psharp@iac.in.gov