March 2011

All Indiana State Library events and workshops are free and open to the public.
All events and workshops occur at the Indiana State Library. You can enter the State Library at 315 W. Ohio Street, Indianapolis, Indiana. Programs require no registration. For more information call 317-232-3675.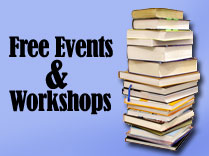 Family History Orientation Tours
Learn where different family history resources are located on the first and second floors of the Indiana State Library. This is a free orientation tour, geared toward genealogists. Pre-registration is required; please call 317-232-3689.
Upcoming Tours
Thursday, March 3, 2011
Tuesday, March 15, 2011
Thursday, April 7, 2011
Tuesday, April 19, 2011

What's New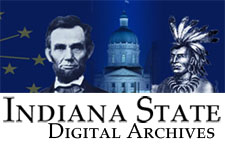 Did you know?
The John S. Wright Memorial Library, the Indiana Academy of Science's collection of materials, is located at the Indiana State Library. It contains an extensive collection of items from scientific organizations worldwide and is composed mostly of scientific journals. The collection can be accessed through the library's catalog, Evergreen Indiana. Items are free to view by anyone visiting the library, and most can be borrowed by patrons of the State Library, as well as through Evergreen borrowing and traditional interlibrary loan.
Resources from the
Indiana State Library
Federal Depository Library Program
Genealogy Collection
Indiana Collection
INSPIRE - Indiana's Virtual Library
Indiana Memory
Manuscripts & Rare Books Collection
Reference & Government Services Collection
State Data Center
More Online Databases

Helpful Links for
Indiana State Library Visitors
Hours & Directions
Map of Downtown Indianapolis
Nearby Dining
Parking


Upcoming Events & Workshops
Women Telegraphers
Wednesday March 2, Noon-1:00pm
Indiana Authors' Room
By the 1870s, when railroads and the telegraph fathered a corporate economy that dominated the
country, women found employment in this white-collar work. Find out what life was like for these
women in America's first high-tech communications field.



History Behind the Pint: The Local History Behind Craft Beer Names
Thursday, March 3, 5:30-6:30pm
History Reference Room
If you've enjoyed a Mishawaka Four Horseman Ale or Backroad Brewery Belle Gunness Stout,
there's a story behind these names. Learn the local history behind the names of some of the
state's brewed beers.



Finding Your Irish Roots
Tuesday, March 8, 10:00-11:00am
History Reference Room
Discover how to find information about your Irish heritage without traveling to the Emerald Isle and
learn about problems typical to Irish research.



A League of Their Own: Women's Baseball in Indiana
Thursday, March 10, 5:30-6:30pm
History Reference Room
This program will discuss women's baseball teams in Indiana and highlight materials in the Indiana
Division.



Indiana's Big Top
Wednesday, March 16, Noon-1:00pm
Indiana Author's Room
Come one, come all! From a traveling circus set up in a field to one that fills a stadium, circuses
have a rich history in Indiana. Learn about the circuses that wintered in Peru and about the circus-
related items at the State Library.


Unique Genealogy Resources
Thursday, March 17, 5:30-6:30pm
History Reference Room
In this program, we will examine some potentially helpful, but not commonly-used genealogy
resources. Join us to find out if you are making the most of ISL's collection in your family
research.


What's Cooking?
Wednesday, March 23, Noon-1:00pm
History Reference Room
Discover ISL's historic cookbook collection. Learn about Hoosier contributions to cooking,
trends, cookbooks available for checkout and more.

Frederick Grue: the "Andrew Wyeth" of Indiana Painters
Thursday, March 24, 5:30-6:30pm
History Reference Room
This Program is based on the book Beyond Realism: the life and art of Frederick Grue by Carol
Ann Weiss and Judith Vale Newton. Learn about the artist's life with samples of his work and
themes of his paintings.

American Community Survey Estimates; What, When and Why
Wednesday, March 30, Noon-1:00pm
Room 428
What makes the first 5-year estimates, released in late 2010, so valuable for Indiana is that for the
first time they are available for areas with populations less than 20,000. Learn more about the
multi-year estimates from the American Community Survey, how to use and interpret them.

Naturalization Process and Records
Thursday March 31, 5:30-6:30 pm
History Reference Room
This program will discuss the naturalization process, including laws, search strategies, how to
locate records, and websites useful in naturalization research.