December 2010

All Indiana State Library events and workshops are free and open to the public.
All events and workshops occur at the Indiana State Library. You can enter the State Library at 315 W. Ohio Street, Indianapolis, Indiana. Programs require no registration. For more information call 317-232-3675.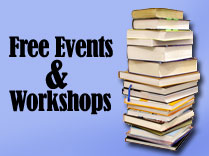 Family History Orientation Tours
Learn where different family history resources are located on the first and second floors of the Indiana State Library. This is a free orientation tour, geared toward genealogists. Pre-registration is required; please call 317-232-3689.
Upcoming Family History Orientation Tours

Thursday, December 2, 2010
Tuesday, December 14, 2010
Thursday, January 6, 2011
Tuesday, January 18, 2011


What's New
Find us on Facebook

Did you know?
The Indiana Talking Book and Braille Library (TBBL), a division of the Indiana State Library, circulates via mail digital audio books and magazines, braille books, large print books, and descriptive videos to Indiana residents who cannot use standard print materials because of a visual or physical disability. A free, simple to use, digital talking book player is also provided to the patrons for listening to audio materials. To qualify for this free library service the applicant fills out an application and has it signed by a healthcare professional or librarian.
Resources from the
Indiana State Library
Federal Depository Library Program
Genealogy Collection
Indiana Collection
INSPIRE - Indiana's Virtual Library
Indiana Memory
Manuscripts & Rare Books Collection
Reference & Government Services Collection
State Data Center
More Online Databases

Helpful Links for
Indiana State Library Visitors
Hours & Directions
Map of Downtown Indianapolis
Nearby Dining

Upcoming Events & Workshops

The Liebers: an Indianapolis Family
Wednesday, December 1, 11:00am-Noon
History Reference Room
The program will take a look at the Richard Lieber family, including the Vonneguts, and their contributions on local and national levels.
The Mother of All Pandemics: Influenza
Thursday, December 2, 5:30-6:30 pm
Indiana Author's Room
Explore the State Board of Health Reports and other state documents that have played a role in major flu pandemics, including the influenza outbreak of 1918.
Unlocking the Mysteries of Ancestry Library Edition
Tuesday, December 7, 11:00am-Noon
History Reference Room
Explore the unique features of Ancestry Library Edition and how it can be used as a valuable genealogical research tool.
Data Products, American Community Survey
Thursday, December 9, 5:30-6:30pm
Room 428
This is a good follow-up session to American Community Survey (ACS) Overview program. Data Products explains the difference between the ACS and the decennial census and provides specific examples of the wealth of data that agencies and the public can access from the ACS.
L.S. Ayres & Co. at Christmastime
Wednesday, December 15, Noon-1:00pm
History Reference Room
Join us for a presentation with a special holiday focus on L.S. Ayres, the famous tea room, its competitors, and the impact on Indianapolis shopping. Tea will be served.
Is There an Indian Princess in Your Family?
An Introduction to Native American Research
Thursday, December 16, 5:30-6:30pm
History Reference Room
Learn about basic methodologies of Native American research and sources in the Indiana State Library and other venues.
More Genealogy Microforms
Thursday, January 6, 5:30-6:30pm
History Reference Room
This program is a follow-up to the Genealogy Microform Collection presentation. Persons will learn about additional Genealogy Collection microfilms and microfiche that will enhance their research.
Researching Your Family? Make the Most of Your Visit to the Indiana State Library
Tuesday, January 11, 10:00-11:00am
History Reference Room
Discover and learn about unique sources, files, and finding aids within the Library useful for researching family history.
Hoosier Salon
Thursday, January 13, 5:30-6:30pm
History Reference Room
The Hoosier Salon became a nationalized, recognized venue for Hoosier artists after its inception in 1925. This program will show its history as documented in the materials available through the Indiana State Library.
Alexander Ralston: Architect of Indianapolis
Wednesday, January 19, 11:00am-Noon
History Reference Room
Born in Scotland and a protégé of Pierre L'Enfant, Alexander Ralston came to Indiana in 1815. Come learn more about this fascinating individual who literally left his mark on our city.
See the country on a dollar a day: the American Guide Series
Thursday, January 20, 5:30-6:30pm
History Reference Room
During the Great Depression, workers in the Federal Writers Project of the WPA created the American Guide series: travel guides to several cities, regions and all 48 states. They contained history, folklore, tours and more. Come learn about these documents that create a fascinating snapshot of our country years ago.
Map Show!
Wednesday, January 26, 12-1pm
Indiana Author's Room
This program highlights some fantastic maps from the State Library's collection. Included are maps from the 18th century, rare maps with historic importance, engraved and hand drawn maps, and maps done by Hoosier artists.
Researching Family History, part 2
Thursday, January 27, 5:30-6:30pm
History Reference Room
This program will discuss the various family history resource collections within the Indiana State Library.