September 2010

All Indiana State Library events and workshops are free and open to the public.
All events and workshops occur at the Indiana State Library. You can enter the State Library at 315 W. Ohio Street, Indianapolis, Indiana. Programs require no registration. For more information call 317-232-3675.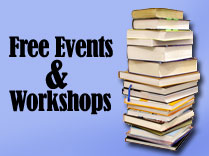 Family History Orientation Tours
Learn where different family history resources are located on the first and second floors of the Indiana State Library. This is a free orientation tour, geared toward genealogists. Pre-registration is required; please call 317-232-3689.
Upcoming Family History Orientation Tours

Tuesday, September 7, 2010
Thursday, September 23, 210
Tuesday, October 5, 2010
Thursday, October 21, 2010

What's New
Find us on Facebook
Did you know?
The Indiana Talking Book and Braille Library (TBBL), a division of the Indiana State Library, circulates via mail digital audio books and magazines, braille books, large print books, and descriptive videos to Indiana residents who cannot use standard print materials because of a visual or physical disability. A free, simple to use, digital talking book player is also provided to the patrons for listening to audio materials. To qualify for this free library service the applicant fills out an application and has it signed by a healthcare professional or librarian.
Resources from the
Indiana State Library
Federal Depository Library Program
Genealogy Collection
Indiana Collection
INSPIRE - Indiana's Virtual Library
Indiana Memory
Manuscripts & Rare Books Collection
Reference & Government Services Collection
State Data Center
More Online Databases

Helpful Links for
Indiana State Library Visitors
Hours & Directions
Map of Downtown Indianapolis
Nearby Dining

The Indiana State Library invites you to attend the 2010 Indiana Vision Expo in Indianapolis on Saturday, September 25, 2010. The Vision Expo connects people with vision loss, as well as their families, to new technologies and services. Over 700 people attended the 2009 Indiana Vision Expo, making it the largest low-vision convention in the Midwest.
The Indiana Vision Expo is for persons with vision loss, their friends and families, service providers, educators, health care professionals, librarians, and other consumers interested in products and services designed to promote independent living. Visit http://www.indianavisionexpo.org/ or call 317-232-3684 for more information.
Upcoming Events & Workshops
Frederick Grue: the "Andrew Wyeth" of Indiana Painters
Wednesday, September 1, 10:00-11:00 am, History Reference Room
This Program is based on the book Beyond Realism: the life and art of Frederick Grue by Carol Ann Weiss and Judith Vale Newton. Learn about the artist's life with samples of his work and themes of his paintings.
Using Google Books in Genealogy Research
Thursday, September 2, 5:30-6:30 pm, History Reference Room
Learn about Google's digitization project and how it can help you with your at-home family history research.
Tony Hinkle
Wednesday, September 8, 11:00 am-Noon, Indiana Author's Room
Tony Hinkle was the former Butler coach and namesake of Butler's historic fieldhouse. Learn about Hinkle's life and legacy at Butler University.
Map Show!
Thursday, September 9, 5:30-6:30 pm, History Reference Room
This program highlights some fantastic maps from the State Library's collection. Included are maps from the 18th century, rare maps with historic importance, engraved and hand drawn maps, and maps done by Hoosier artists.
American Community Survey
Wednesday, September 15, 10:30-11:30 am, Room 428
Many organizations – non-profits; government entities, and businesses – use data from the Census Bureau's ACS for a timely picture of the populations they serve. Learn where to start when using ACS as well as the content, methodology and data products.
Do You Have Military Ancestors in Your Family?
Thursday, September 16, 5:30-6:30 pm, History Reference Room
This program will give a general overview the many resources that are in the Indiana State Library, Genealogy, Indiana, Reference and Document collections relative to military records.
State vs. Federal Documents
Wednesday, September 22, Noon-1:00 pm, Indiana Author's Room
Learn the similarities and differences between state and federal documents as well as how they can be used. Participants will get an overview of the Federal and State Depository Programs here at the Indiana State Library.
Organize and Document Your Genealogy Research
Thursday, September 23, 5:30-6:30 pm, Indiana Author's Room
Gather tips for organizing and documenting your genealogy research and learn how to prepare for a research visit to a library.
Indiana Farm Machines
Wednesday, September 29, Noon-1:00 pm, History Reference Room
This program highlights the State Library's collection of agricultural implement catalogs from the 19th and early 20th centuries. The focus is on catalogs from Hoosier companies like Reeves, Rumely, and Oliver.
Fiction to Film
Thursday, September 30, 5:30-6:30 pm, History Reference Room
Indiana has a long tradition of great authors and many of their books were made into award-winning movies. Learn about some of those books and see clips of movies with a Hoosier connection.