August 2010

All Indiana State Library events and workshops are free and open to the public.
All events and workshops occur at the Indiana State Library. You can enter the State Library at 315 W. Ohio Street, Indianapolis, Indiana. Programs require no registration. For more information call 317-232-3675.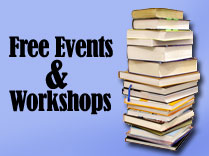 Family History Orientation Tours
Learn where different family history resources are located on the first and second floors of the Indiana State Library. This is a free orientation tour, geared toward genealogists. Pre-registration is required; please call 317-232-3689.
Upcoming Family History Orientation Tours

Tuesday, August 3, 2010
Thursday, August 19, 2010
Tuesday, September 7, 2010
Thursday, September 23, 210

What's New

Did you know?

The State Library is now doing programs every Thursday evening from 5:30-6:30. There will be additional programs during the week at various times.
Resources from the
Indiana State Library
Federal Depository Library Program
Genealogy Collection
Indiana Collection
INSPIRE - Indiana's Virtual Library
Indiana Memory
Manuscripts & Rare Books Collection
Reference & Government Services Collection
State Data Center
More Online Databases

Helpful Links for
Indiana State Library Visitors
Hours & Directions
Map of Downtown Indianapolis
Nearby Dining
Upcoming Events & Workshops
Progressive Era in the United States
Tuesday, August 3, 1:00-2:00 pm, Indiana Author's Room
The Progressive Era brought over 22 million immigrants to the U.S. of which over 48% were non-English speaking. One method the Progressive Era reforms used to "Americanize" these immigrants was through the new medium of film. The National Film Preservation Foundation has preserved these films to DVD. Learn how the reformers used film to help the new citizens assimilate into the urban American living.
Madam C.J. Walker: The Wonderful Hair Grower
Thursday, August 5, 5:30-6:30 pm, History Reference Room
Learn about Madam Walker, the first female millionaire by her own achievements, who grew her enterprise in Indianapolis.
More Genealogy Microforms
Tuesday, August 10, 10:00-11:00 am, History Reference Room
This program is a follow-up to the Genealogy Microform Collection presentation which was too extensive for one session. Persons will learn about additional Genealogy Collection microfilms and microfiche that will enhance their research.
Indiana Vital Records Resources
Wednesday, August 11, 11:00 am-Noon, History Reference Room
This program is an introduction to the Indiana Birth, Death, and Marriage Indexes and other resources at the Indiana State Library. It covers print, microfilm, and electronic resources with emphasis on the special materials within the Genealogy Collection.
The Mask of Agamemnon: Heinrich Schliemann
Wednesday, August 18, 10:00-11:00 am, Indiana Author's Room
Known as the Father of Modern Archaeology and founder of the ancient city of Troy, fluent in 13 languages and multi-millionaire, Heinrich Schliemann moved to Indianapolis in 1869. Learn more about this fascinating historical figure.
Off to the Fair
Thursday, August 19, 5:30-6:30 pm, History Reference Room
The 1893 World's Columbian Exposition was a landmark event that had profound influences on American customs and perceptions for years to come. Come learn about the fair itself, Indiana's participation in it and resources available at the State Library.
Hoosier Salon
Wednesday, August 25, Noon-1:00 pm, Indiana Author's Room
The Hoosier Salon became a nationalized, recognized venue for Hoosier artists after its inception in 1925. This program will show its history as documented in the materials available through the Indiana State Library.

Is your Norma listed as "Warnie" in the census?
Thursday, August 26, 5:30-6:30 pm, History Reference Room
This program will show researchers how to deal with a variety of indexing errors such as mangled names and misapplied geographic identifiers, as well as other types of errors evident in many indexes.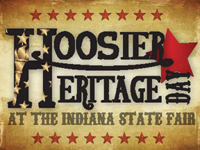 Join the Indiana State Library as well as other state agencies and statewide non-for-profits on August 12th to learn about Hoosier history at the annual Hoosier Heritage Day at the Indiana State Fair, 9 a.m. - 9 p.m., on State Fair Boulevard.

Fairgoers can meet re-enactors portraying Madame C.J. Walker, President Abraham Lincoln, and Raggedy Anne. After talking with the re-enactors, attendees can play a history trivia game, try on an Indiana Supreme Court Judge's robe, or put together a State House puzzle. Attendees can learn more about Hoosier participation in all U.S. wars by talking with historical re-enactors or by visiting with the staff at the Indiana War Memorial. Finally, take a trip on one of the architectural trolley tours and learn about the history and beauty of the buildings at the State Fair.

To see what you can do at Hoosier Heritage Day, an entire day devoted to Indiana History, check out the schedule of events for the day.