July 2010

All Indiana State Library events and workshops are free and open to the public.
All events and workshops occur at the Indiana State Library. You can enter the State Library at 315 W. Ohio Street, Indianapolis, Indiana. Programs require no registration. For more information call 317-232-3675.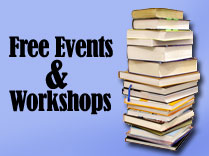 Family History Orientation Tours
Learn where different family history resources are located on the first and second floors of the Indiana State Library. This is a free orientation tour, geared toward genealogists. Pre-registration is required; please call 317-232-3689.
Upcoming Family History Orientation Tours

Tuesday, July 6, 2010
Thursday, July 22, 2010
Tuesday, August 3, 2010
Thursday, August 19, 2010

What's New

Did you know?

The State Library is now doing programs every Thursday evening from 5:30-6:30. There will be additional programs during the week at various times.
Resources from the
Indiana State Library
Federal Depository Library Program
Genealogy Collection
Indiana Collection
INSPIRE - Indiana's Virtual Library
Indiana Memory
Manuscripts & Rare Books Collection
Reference & Government Services Collection
State Data Center
More Online Databases

Helpful Links for
Indiana State Library Visitors
Hours & Directions
Map of Downtown Indianapolis
Nearby Dining
Upcoming Events & Workshops
Indiana Battle Sites
Wednesday, July 7, 11am-Noon, Indiana Author's Room
Learn about three prolific Indiana battles: Battle of Tippecanoe, Battle of Mississinewa and the Battle of Corydon, and how each battleground site is interpreted differently.
The First Indiana Saint : Saint Mother Theodore Guerin
Thursday, July 8, 5:30-6:30 pm, History Reference Room
Saint Mother Theodore Guerin is the foundress of the Sisters of Providence of Saint Mary-of-the-Woods. Her story is an important part of women's, Indiana and North American Catholic Church histories.
Play Ball! Indiana and Negro League Baseball
Wednesday, July 14, Noon-1:00 pm, Indiana Author's Room
Come learn about the two Negro league baseball teams in Indianapolis and how they impacted life in Indiana, as well as the history of the Negro Baseball League and their rise to fame.
Indianapolis Brewing Company
Thursday, July 15, 5:50-6:30 pm, Indiana Author's Room
Learn the history of Indianapolis's oldest breweries and their contributions to the community before Prohibition forced each company to close its doors.
Ice Cream, You Scream
Tuesday, July 20, Noon-1:00 pm, Indiana Author's Room
Ice cream and Indiana have a rich and delicious history. Learn facts about ice cream and Indiana, ice cream resources at the State Library, flavored with local history about small ice cream shops around the state.
Confused by Numbers?
Thursday, July 22, 5:30-6:30 pm, History Reference Room
This program will discuss the various numbering systems used in family histories, their development, examples, and advantages and disadvantages of each.
Jim Jones and Jonestown
Tuesday, July 27, Noon-1:00 pm, History Reference Room
Jim Jones, best known for the deaths of 900 people in Jonestown, Guyana, was a Hoosier. Visit the State Library to learn about Jim Jones' Indiana connection.
Finding Female Ancestors
Thursday, July 29, 5:30-6:30 pm, History Reference Room
This program will explore resources and practices in finding the women in your family tree.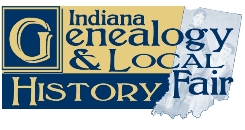 Save the date
Indiana State Library
Saturday, October 23, 2010
9:00 a.m. – 3:30 p.m.
The Indiana State Library will host the second annual Indiana Genealogy and Local History Fair
Admission is free and open to the general public.
Visit the tables in the "midway" to collect information from genealogical and local history organizations and Indiana public libraries, and shop the commercial vendors.
Three FREE programs will be offered throughout the day. Our speakers will include, Andrew Kossack, Indiana Public Access Counselor; Dr. Marianne S. Wokeck, Associate Dean for Academic Affairs - IU School of Liberal Arts; and Dani Pfaff, Research Manager - Indiana Historical Bureau