January 2010

All Indiana State Library events and workshops are free and open to the public.
All events and workshops occur at the Indiana State Library. You can enter the State Library at 315 W. Ohio Street, Indianapolis, Indiana. Programs require no registration. For more information call 317-232-3675.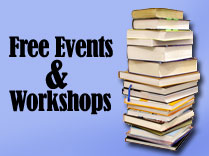 Family History Orientation Tours
Learn where different family history resources are located on the first and second floors of the Indiana State Library. This is a free orientation tour, geared toward genealogists. Pre-registration is required; please call 317-232-3689.
Upcoming Family History Orientation Tours

Tuesday, January 5, 2010
Thursday, January 21, 2010
Tuesday, February 2, 2010
Thursday, February 18, 2010

What's New


Did you know?

The State Library accepts donations. Many additional purchases of library materials and equipment are made possible with private donations. Gifts can make the vital difference between being a good state library and becoming a truly great one. Philanthropy can help the Indiana State Library improve the services and collections.
Resources from the
Indiana State Library
Federal Depository Library Program
Genealogy Collection
Indiana Collection
INSPIRE - Indiana's Virtual Library
Indiana Memory
Manuscripts & Rare Books Collection
Reference & Government Services Collection
State Data Center
More Online Databases

Helpful Links for
Indiana State Library Visitors
Hours & Directions
Map of Downtown Indianapolis
Nearby Dining
Indiana State Library and Historical Building celebrated 75 years
On Friday, December 11th the Indiana State Library and Historical Building celebrated its 75th Anniversary. The building was completed in 1934 and is considered one of the most significant works of Pierre & Wright, an important architectural firm in Indianapolis during the second quarter of the 20th Century. Its distinctive architecture combines Neo-Classical features with Art Deco detailing. It is constructed of Indiana walnut, sandstone and limestone and adorned with brilliant stained glass windows, wall murals, wood carvings, sculptures, tiles and paintings.
A State Library was established in 1825 by the General Assembly and located at the Statehouse. The need for a separate building was so great that materials were being stored in the hallways of the capitol. In 1929, the Assembly raised a special tax to fund construction. The project became one of few underway in the city during the dark early years of the Great Depression, when construction began in 1932.
Today, the Indiana State Library houses over two million volumes, three million manuscripts, and thousands of maps, federal documents, microfilm, and much more. The Library also has two of the largest Indiana History and Genealogy collections in the nation.
Guests enjoyed cake and punch. In addition, Governor Daniels also proclaimed Friday December 11th, 2009, as the official 75th Anniversary of the Indiana State Library and Historical Building.
Upcoming Events & Workshops
Carnegie Libraries in Indiana
Tuesday, January 5, 11:00 am – noon, Indiana Author's Room
Industrialist-turned-philanthropist Andrew Carnegie funded over 2500 libraries in the US. Indiana built 164 Carnegie libraries, more than any other state. Learn about some of the Carnegie libraries and a brief history of public libraries in Indiana.
Researching Family History, part 1
Thursday, January 7, 5:30-6:30 pm, History Reference Room
Get an introduction to the beginning elements of genealogy research and overview of the basic documents and resources used in tracing your family tree.
Researching Family History, part 2
Tuesday, January 12, 11:00 am – noon, History Reference Room
This program will discuss the various family history resource collections within the Indiana State Library.
Crossroads of Indiana: The Michigan and National Roads
Thursday, January 14, 5:30-6:30 pm, History Reference Room
Take a trip down two historic roads through Indiana. Learn a brief history of the Michigan and the National roads and how these thoroughfares allowed Indiana towns and countryside to develop.
The Mask of Agamemnon: Heinrich Schliemann
Tuesday, January 19, 10:00 -11:00 am, Indiana Author's Room
Known as the Father of Modern Archaeology and founder of the ancient city of Troy, fluent in 13 languages and multi-millionaire, Heinrich Schliemann moved to Indianapolis in 1869. Learn more about this fascinating historical figure.
Indiana's Big Top
Thursday, January 21, 5:30-6:30 pm, History Reference Room
Come one, come all! From a traveling circus set up in a field to one that fills a stadium, circuses have a rich history in Indiana. Learn about the circuses that wintered in Peru and about the circus-related items at the State Library.
Will Hays
Wednesday, January 27, noon-1:00 pm, Indiana Author's Room
Will Hays Junior is the son of the "Czar of Hollywood", Will Hays Senior. The younger Hays is a published author, Indiana mayor and an interesting Hoosier personality. Learn about his life and work at the Indiana State Library.
Introducing Family History Research to Children
Thursday, January 28, 5:30-6:30 pm, History Reference Room
Discover project ideas and resources to introduce family history research to children in a home, library or classroom setting.